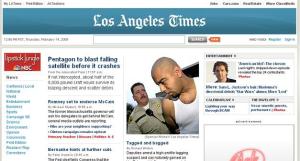 We've started making our phone calls to the L.A. Times newsroom. We were instant messaging with one harried editor who couldn't talk because said editor had to "go down to newsroom for the installation in ten." That was at 2:20 p.m. (our time), so presumably Russ Stanton is being coronated right now (Nancy Sullivan, spokeswoman for the paper, just confirmed it is happening right now).
But we did manage to get on the phone with our biggest Stanton critic, an editor who complained his hiring would be a "disaster."
"Well, I knew this was coming. From the perspective of your story, it was sort of like an age issue where the young turks want to do something one way and the old turks want to do it another way. I just don't buy that. I think everyone's concern is what are we going to be doing: Are we still going to cover local government? Are we still going to write about the governor?
"I don't think they're resistant to change. We're resistant to not doing journalism. That's what's lost in all this. It's not that they're resistant to change; are we going to do journalism with the Web? Great! Let's do that. But are we going to do that? Are we just going to do easy things that come over in press releases and put some clever little spin on it in a blog? That's the concern about Russ. There's not a lot of evidence that the journalism side in him is real strong. It may just surprise everybody."