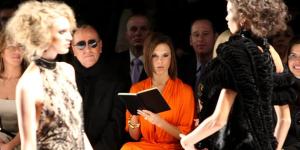 Victoria Beckham (a.k.a. Posh Spice) had chosen a clear winner by the time all five of Project Runway's finalists—Chris March, Christian Siriano, Rami Kashou, Sweet P and Jillian Lewis—finished showing their collections in the Tent at Bryant Park this morning. But while speaking to the Daily Transom, the singer and Marc Jacobs muse revealed a bit too much.
"Well, for me personally, there is one designer who is a very clear winner—in my eyes," Ms. Beckham, 33, the special guest judge at today's show, told us. "There is one designer which every single piece I saw come out on this runway is something I would wear myself. He made me smile"—upon realizing that she had divulged the sex of her fave fashionista, Ms. Beckham grabbed our arm with her tan, itty-bitty fingers and turned around to see if any Bravo brass had heard her slip—"This designer made me smile," she added quickly.
If asked to guess which contestant had Ms. Beckham—who was judging today alongside designer Michael Kors, model Heidi Klum and Elle fashion director Nina Garcia—flashing those pearly whites, we would have to go with Mr. Siriano. Though he's only 21 years old, Mr. Siriano seems a true phenom and, judging by the overwhelming applause he garnered at the show, a crowd favorite.