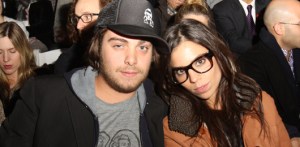 The Parker, a small boutique on Madison Ave. near 78th Street, was overflowing last night with an eclectic mix of partygoers who had come to celebrate downtown designer-DJ Izzy Gold's new, limited-edition "Kiss Kiss" T-shirt. The design of the soft, gray item was inspired by Patrick McMullan's 1996 book of the same name—a weighty chunk of pages, it features the party photog's favorite kissing pics taken over his 25-year career. (Later on, after the party moved to the meatpacking district nightclub Kiss & Fly, photos from the book were blasted onto a large projection screen dangling over the empty dance floor.) Mr. McMullan, a co-host with Mr. Gold, 26, and Ally Hilfiger, 22, was schmoozing and signing copies from behind a table in one corner of the store.
In another corner, socialite Annabel Vartanian, who reportedly passed out at a La Perla party in December, appeared at times as if she might get woozy once again. Some 20 minutes after first speaking with Ms. Vartanian, we stood a few feet from her in front of the store, where she was bent over and picking items up off the sidewalk. "I'm. So. Fucking. Drunk," she told two friends, who seemed far more interested in their smokes. It was a few minutes after 8 p.m. About two hours later, when we last saw Ms. Vartanian, she was having an intimate tête-à-tête with 17-year-old actress Leven Rambin in a tucked-away booth.
"[Store owner] Andrew Parker is a very good friend of mine and I'm a big fan of his store and I used to live next door," she said of why she was at the party. (She has since moved to Nolita.) Of the T-shirts and their shaggy-haired designer, Mr. Gold, she had plenty to say: "I think it's awesome. I think their T-shirts have always been my favorite, like, random T-shirts that I see on them and they're good friends of mine—[socialite-cum-actress] Francesca [Cecil] and I'm like where did you get that and they're like this is my design. I think it's fabulous. Hilarious!" she said.
The fiery-haired Ms. Vartanian added that Mr. Gold, also a painter, is "just a real person, a real down-to-earth, great, cool"—she paused, apparently searching for the perfect word—"bird," she said with a blank stare.