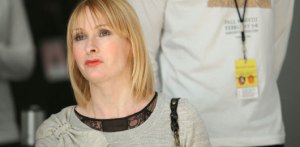 Today's—air quotes—1 p.m. Rebecca Taylor show in the Salon at Bryant Park had three distinct, carefully orchestrated parts. One involved folks sitting in chairs and watching Ms. Taylor's clothes go back and forth. Another section was comprised of models wearing the clothes and stomping on a gold-sequin runway. And the third component, of which we were an integral part, included some 50 people holding meaningless purple flashcards for 45 minutes in a fountainside corral.
Told of the glorious lapis water cloud dresses and silk dandelion ruffles waiting for us inside, some people were seemingly too excited to notice the sudden flight of publicists and list checkers. Never mind the muffled booms of music flooding the foyer.
"Show's closed!" one security guard eventually yelled, holding a stanchion in midair like a cattle prod. "What? How can that be?" asked a tall blonde woman wearing a merlot-colored fur jacket under a brown fast-food-style fold-a-cap with red piping.
After tossing purple cards into the nearest trash cans, the hoi polloi saddled up in front of a wall of screens broadcasting the proceedings. Probably due to a mix of frustration and slight embarrassment, when a model broke a heel on the runway and had to remove her purple pumps, several castaways forced loud guffaws.
It can be hard to discern the gist of a collection from a monitor. (Though, to be fair, peeping yards upon yards of lapis organza and poppy silk is relaxing business.) So, we relied on members of the cool clique to convey their sentiments.
"[Ms. Taylor's] one of my favorites, always—so feminine and so romantic and frilly and girly. I love it!" said former model Beth Ostrosky, who is engaged to shock jock Howard Stern. Her famous fiancé, she added, is "into my clothes." (Ms. Ostrosky, 35, was wearing a white trench.) She also loves Fashion Week because: "Oh, gosh … it's all exciting and fun!"
Fauxcialite Byrdie Bell, meanwhile, was easy to spot in a sequined red beret. She decreed Alice Temperley's show "gorgeous," Carolina Herrera's "amazing"and "loved" Ms. Taylor's. "There was a piece that was my favorite. It was a long sweater over sort of a vintage dress—or a slip, really—that I was into," she said, referring, we think, to what press materials called a "patched cream lace tee with cashmere boyfriend sweater and patched skirt."
Asked what she likes about Fashion Week, the 22-year-old aspiring actress replied: "The theatrics! The drama! The show! The fact that it is a show. I like shows."