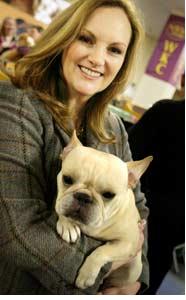 Patty Hearst won last night!
From the breathless account in The Times (London):
In 1974 her photo was splashed across the front pages as a kidnap-victim-turned-girl-terrorist who toted a machine gun to rob a bank with her radical captors.
"I'm Tanya. Up against the wall, motherf******s," she cried.
People change, however. Yesterday Patty Hearst won a top prize with Diva, her French Bulldog, at the genteel Westminster Kennel Club show in Madison Square Garden, New York.
Now known as Patricia Hearst Shaw, the newspaper heiress is aware of the consternation that her past continues to cause.
"When people find out it's me, it's like it doesn't make sense," said Mrs Shaw, 53. "The Frenchie people know me because I've been around. But others, they seemed surprised."