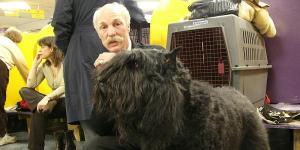 Poppy, a one-and-a-half-year-old Bouvier des Flandres, might be the youngest dog at the Garden tonight. She didn't win anything in her group, but her triple threat owner/breeder/handler Brian Gunther said he was very proud of her, as she is seventh in a generational line he has raised since puppyhood.
Mr. Gunther, the president of the Bouvier des Flandres Club of Canada, hails from Quebec (English is his second language). He's a retired architect.
"This is a hobby that has somehow turned into my passion," he said.
Currently Mr. Gunther has 11 Bouviers des Flandres, a cattle-driving herding breed ("most people think herding is just sheep, it's not"), in his seven-bedroom house, which sits on five acres. His wife spins the extra dog hair into mittens and scarves, but only for family.
He is deeply attached to his dogs, spending time with them in the nursery through every step of socialization. When it's time for their new owners to pick them up, he said, he cries.
"I'm getting choked up right now just thinking about it," he said, voice tightening. He had been to the Westminster Dog Show before, but never with a dog in the competition.
"It was truly overwhelming," he said. "This is the Mecca. Stepping on that floor … you feel that energy and the tension. You Americans, you are so very intense!"
He said he hoped to be back, but wasn't sure if Poppy could be the last of the line. "I don't know, when I wake up in the morning and brush my teeth, I feel 37. Then I look in the mirror and see Keith Richards staring back at me."