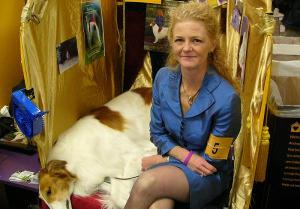 Hunter (Ch. Sunbursts Huntsman at Machta), is the four-year-old, one-hundred-pound winner of his Best of Breed (Borzoi) earlier today.
Now he's waiting patiently with his co-owner and handler, Marilyn McGraw, to compete in the Hound group, which is the first group up tonight. Borzoi were originally bred in Russia as status symbols, Ms. McGraw, of San Juan Bautista, Calif. said. She was wearing a blue shiny suit, and is considered, amongst the dog-handling folks, to be kind of a knockout ("Nicole Kidman's got nothing on Marilyn," a woman from a neighboring stall said).
"I choose a color that compliments the dog," Ms. McGraw said of her outfit. She later changed to a dark and more muted suit for the live television broadcast. "You never want to wear anything that outshines the dog, you want to wear shoes that won't slip, and you never want to wear anything that clashes with the carpet."
Words to live by! Ms. McGraw said that keeping a dog on the dog show circuit was like having a kid in college. "An expensive one, too" she said.