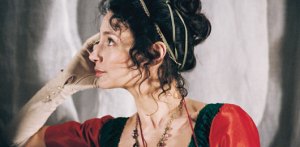 THE DUCHESS OF LANGEAIS
RUNNING TIME 137 minutes
WRITTEN BY Pascal Bonitzer and Christine Laurent
DIRECTED BY Jacques Rivette
STARRING Jeanne Balibar, Guillaume Depardieu, Michel Piccoli, Bulle Ogier
Jacques Rivette's The Duchess of Langeais (Ne Touchez pas la Hache), from a screenplay by Pascal Bonitzer and Christine Laurent, is based on the novella by Honoré de Balzac. It is reportedly more faithful to Balzac's original narrative than was Jacques de Baroncelli's 1942 adaptation. I have never seen this version, made during the German occupation of France, and I am not sure it was ever distributed in the United States. Indeed, I had not read the Balzac novella until very recently, but I became curious about this literary property as a movie subject back in the early 50's, when Greta Garbo was scheduled to return to the screen opposite James Mason in a Max Ophüls-directed adaptation. The production had to be canceled when the backer, Walter Wanger, lost his shirt on Victor Fleming's Joan of Arc (1948), which was released in the midst of the Rossellini scandal.
Now that I have seen Mr. Rivette's film, I can't imagine why anyone (except the eternally perverse Mr. Rivette) would want to make a movie based on such bleak and forbidding literary material. It is a strange yarn indeed that Balzac unwinds about two ill-starred, stubbornly unyielding and thus frustrated partners in an unconsummated passion during the Restoration in 1820's Paris.
The film, like Balzac's novella, actually begins five years after the main moribund action of the plot in Paris. In Balzac's own words: "In a Spanish city on an island in the Mediterranean, there stands a convent of the Order of Barefoot Carmelites, where the rule instituted by St. Theresa is still preserved with all the first rigor of the reformation brought about by that illustrious woman. Extraordinary as this may seem, it is none the less true. Almost every religious house in the Peninsula, or in Europe for that matter, was either destroyed or disorganized by the outbreak of the French Revolution and the Napoleonic Wars; but as the island was protected through those times by the English fleet, its wealthy convent and peaceable inhabitants were secure from the general trouble and spoliation. The storms of many kinds which shook the first fifteen years of the nineteenth century spent their force before they reached those cliffs at so short a distance from the coast of Andalusia."
Mr. Rivette may have been so mesmerized by the profound precision of Balzac's prose that he failed to perceive how boring the literary narrative would be when it was brought to the screen comparatively intact. More likely he didn't care, and I say this as one who got off on the wrong foot with Mr. Rivette with his very first feature-length film, Paris Nous Appartient (Paris Belongs to Us), in 1960. Despite some later favorable impressions of his work, I never really became a Rivette enthusiast like my esteemed colleague, David Thomson, who begins his euphoric Rivette entry in The New Biographical Dictionary of Film with the following defiant statement: "The uninformed filmgoer might not leap to support the contention that Rivette is the most important filmmaker of the past thirty-five years." Why? Mr. Thomson explains: "After all, Rivette has made films blatantly outside the conventional scheme."
I would certainly agree that a filmmaker who makes films up to nine hours in length is not catering to even the most experimentally inclined art-house patron. Still, I can't say that I have rejected out of hand every Rivette film I have managed to see and sit through. I recall actually liking La Religieuse (1966), despite or perhaps because of its comparative conventionality. I also went with most of my critical colleagues in approving the whimsies of Céline and Julie Go Boating (1974), and I confessed to a partially guilt-ridden pleasure in watching amateur model Emmanuelle Béart pose in the nude for painter Michel Piccoli for almost two hours in Mr. Rivette's La Belle Noiseuse (1991).
For the most part, however, I have tired of Mr. Rivette's incessantly highbrow theatrical improvisations. But then I have always kept improvisatory filmmakers on a short leash. And when I apply the term "theatrical" to Mr. Rivette's work, I mean literally stagebound. A character in Paris Nous Appartient asks another character, "Would you still admire Pericles as a play so much if it were not signed by Shakespeare?" Mr. Rivette thereby transposes his own Cahiers du Cinéma-inspired La Politique des Auteurs to his own contrived conceptions of the theater.
Actually, there is nothing stagebound about Mr. Rivette's cinematic transfer of Duchess of Langeais to the screen. He renders Balzac's monastery cliffs very realistically, and dwells on all the book's picturesque details. After the general, Armand de Montriveau, secures a final audience with the former Duchess-turned-Barefoot Carmelite, we go back five years to the beginning of a stranger relationship: that of the Duchess of Langeais, a frivolously flirtatious married noblewoman whose absent husband allows her reasonably free rein, and a bemedaled Napoleonic general who entrances her with his calmly diffident accounts of his heroic exploits. Antoinette, the Duchess, invites the general to visit her in her apartment after their first meeting at a lavish society ball. But on this first and all subsequent intimate meetings, she adroitly fends off all of his sexual advances in search of a love greater and nearer to God, than that which he has experienced on his many previous conquests.
After many rebuffs, the general decides that he has had enough and vows never to see her again. Now the tables are turned. It is Antoinette who longs to see the aloof general. She enlists the assistance of her friends and relations in her efforts to have him visit her again. When she risks social disgrace by leaving her empty carriage outside the general's apartment, her friends warn her to be more prudent. But despite this, and despite all her wiles and stratagems, Montriveau remains adamant in his refusal to see her even when she is virtually on his doorstep.
Finally she leaves for parts unknown, and the general, now bereft, searches for her across Europe with no success. The tables have turned a second time. When the general finally does find Antoinette five years later, he faces innumerable obstacles in his efforts to extricate the duchess from her holy order. He eventually enlists the help of an adventurous band of friends to abduct her from the convent. They manage to scale the cliff protecting the holy order from the outside world, only to find Antoinette dead and laid out for mourning. They take her down to their ship, where it is decided that her body should be disposed of at sea.
In the Ellen Marriage translation of The Duchess of Langeais, first published in 1834, and subsequently included in Richard Aldington's 1946 collection Great French Romances, General Montriveau is persuaded by a shipmate to dispose of Antoinette with these words: "That was a woman once, now it is nothing. Let us tie a cannonball on both feet and throw the body overboard, and if ever you think of her again, think of her as some book that you read as a boy.
"'Yes,' assented Montriveau, 'It is nothing now but a dream.'"
The English subtitle in Mr. Rivette's film substitutes "poem" for "dream," or the
prosaic for the poetic. Lost in the jungle of two translations, I may be making too much of the discrepancy. Yet I find it strikingly reminiscent of what I discerned in Paris Nous Appartient, when I became fixated on a woman's high heels relentlessly click-clacking on the Paris pavement for an ostentatiously realistic effect that I rejected immediately as anti-poetic. The Duchess of Langeais might have become an Ophülsian masterwork with Garbo and Mason, but not with the tediously matter-of-fact manner with which Mr. Rivette has directed Jeanne Balibar and Guillaume Depardieu.
See it anyway, for the respectfully literal Balzac screen transcription. After all, I may have been wrong about Mr. Rivette all these years, and it would not be the first time.