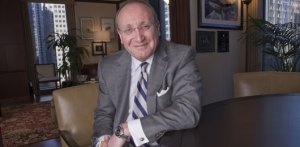 Location: Every day seems to bring more news of the aftereffects of the credit crisis spawned by the subprime mortgage defaults. Can you connect the dots between those defaults and the lack of fresh lending for commercial property buys here right now?
Mr. Mosler: I think it's difficult to connect the dots in precise terms, but clearly we continue to see the fallout from subprime. We haven't reached the bottom, which we had all hoped to do by now. Personally, I think, as it relates to subprime, we're not that far away from reaching the bottom, which is the most important piece of this.
More importantly, I think, unconnected to subprime, where there's going to be some more bad news, if you will, it's probably going to be in the consumer arena—particularly as it relates to credit cards. I don't think you're going to see significant bad news as it relates to the commercial side of the industry.
So what does that mean in a place like Manhattan? Will there be the large building deals of last year this year?
I don't think you can answer that question quite yet because clearly what's happened, for the moment, is it's difficult to get loans on significant assets—more than $100 million. Where you are seeing them done, it's probably being done in a club-type of arrangement; it's also, I think, relationship-lending that's taking place right now—people have long relationships and they're willing to use their balance sheets.
It's too early to say there won't be consequential deals done in Manhattan. This is a unique market; this is a robust market; the dollar is weak. Foreign investors continue to look at this market as attractive. We know there's significant capital sitting on the sidelines, waiting to reinvest once the market value has been—can be—realized.
But if other nations' economies—especially those in the European Union, Great Britain—started to suffer and have problems similar to the kinds in the U.S., what sort of impact would that have on the Manhattan market?
It would be fairly consequential. But, remember, there's still a gap; there's still, from the standpoint of the dollar to the euro and the dollar to the pound, we're still trading at a significant discount. So we're still attractive to other countries. In fact, in the first month, I think we've seen foreign investment interest increase, not decrease, in year over year.
From January '07?
Absolutely.
It's too early to tell. I mean, a lot of these questions are difficult to answer because it's early in the year.
Speaking of lending, Macklowe Properties—do you know anything about the future of the GM Building right now? [Editor's note: The interview took place on Feb. 11 in Mr. Mosler's 12th-floor office on West 52nd Street.]
I don't. And I couldn't comment if I did. But let me say this: I think GM is a unique asset; I think it's a spectacular asset. And I think that in the next month or so we'll know a lot more. I personally think that it will go at a record price as it commands that.
Cushman's rival in New York, CB Richard Ellis, is marketing the GM Building. Was Cushman in the running for that job?
We were to the best of my knowledge—actually, I don't want to comment on that.
O.K. Is there a Cushman-CBRE rivalry in New York?