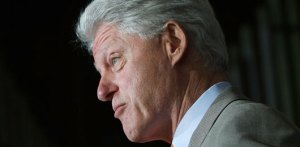 AUSTIN, Texas—Bill Clinton told a crowd gathered in glorious sunshine here yesterday that his wife's candidacy represented "change you can rely on."
The former president also complained, as his wife started to fall behind in the polls, about the rules governing the Democratic contest in this state.
"The election process you've got takes the cake," he told the crowd, citing the unusual combination of early voting, a primary and then caucuses on the evening of polling day.
Obama has consistently beaten Hillary Clinton in caucus states and the former first lady's campaign is concerned that she could win the popular vote here but fail to gain a significant boost in delegates if Obama performs strongly at the evening gatherings.
The former president put it more provocatively than that, however. He asserted that members of the Obama campaign "believe they can come in that night and take the delegates away. Are you going to let that happen?"
Clinton drew a medium-sized crowd, numbering around 400, to the rally at Austin Community College. While many audience members were clearly confirmed supporters—including a woman wearing a T-shirt bearing the legend "Hillary 44"—occasional chants of "Obama" could be heard during the warm-up speeches.
One proxy for the Clinton campaign, former State Senator Gonzalo Barrientos, jabbed at Obama, saying, "We cannot have on-the-job training in the White House." Another introductory speaker, Margaret Gomez, a county precinct commissioner, drew a mixed reaction from the crowd when she recalled her father's advice to stand up for herself.
"You don't let a nice cute guy take your place [in the line]," she said, "especially if he's going to whisper sweet nothings in your ear."
Clinton avoided any kind of similar attack lines, though he defended his wife's health care plan, insisting that "contrary to some of the things her opponent has said, it will not be unaffordable for anyone." He also characterized Obama's appeal in a way that seemed to reference his own presidency as much as his wife's candidacy.
He argued that "one of" the candidates "says, 'You should vote for me because I embody change … because I was not involved in the heroic struggles with the far right of the Republican Party in the 1990's to make good things happen."
Clinton also engaged in the kind of folksy rapport at which he is so famously adept. After a reference to last night's debate in Ohio drew a supportive shout from an audience member, Clinton replied with a broad smile, "She did rock. Yeah, she was good last night." And, discussing aspirations for greater energy efficiency, he included a reference to a Texan hero: "We'll be on the road again. Willie Nelson'll have something to sing about again."
Clinton lingered for almost an hour after his speech ended, working a rope line and speaking with local dignitaries. His visit seemed to boost the morale of some supporters.
Retired schoolteacher Pearl Watson of Austin said she had already cast her vote for the former first lady but was encouraged that the former president "gave such a good representation of what Mrs. Clinton stands for."
Other supporters, though equally complimentary about Bill Clinton, were not sanguine about his wife's chances in the Lone Star State.
"My optimism is not very high," 22-year-old Veronica Chidester, also of Austin, said. "He [Obama] beats us all the time in the caucuses."
Chidester added that "people don't want to take that extra step" of attending caucuses to show their support for the former first lady.