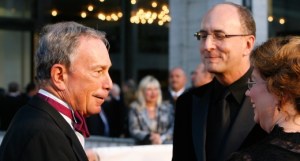 Unlike Michael Bloomberg's Shermanesque statements about running for president, Bloomberg is still leaving open the opportunity for someone – anyone! – to ask him to be a vice presidential candidate.
In his weekly radio interview with John Gambling on 77 WABC this morning, Bloomberg was asked if he was interested in a vice presidential position.
"Nobody is going to ask me, John," Bloomberg said.
Bloomberg went on to say he met with state Senators last night and Assembly members this morning, and "I told both groups I am not running for state Senate, I am not running for state Assembly, I am not running for governor."
Gambling then asked Bloomberg about a possible senate race.
"Well, number one, at the moment there is no vacancy, and if you believe the polls, there might not be. Hillary is still in the race but she's got a tough race ahead of her. Going into the Senate when you're 66 years old is not very smart because in the Senate, it's all seniority, and I'll be in my 90s before I had any real say there."