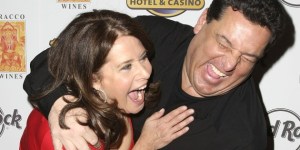 On Monday, Feb. 25, Lorraine Bracco—who around here is still better known as the shrieky wife in GoodFellas than for her role as the shrink with a smoky voice on The Sopranos—threw a launch party for her new line of wines at the Hard Rock Café on Broadway and 43rd Street. No matter how you slice it, a TV actor launching an eponymous line of booze at a Times Square theme restaurant on a Monday night in February is a tad depressing. Fugeddaboutit! The event was well-attended and star-studded—even Mayor Bloomberg showed up to support the 53-year-old actress and her vino.
"I have a lot of energy and didn't want to just walk around in my apartment in circles," Ms. Bracco told the Daily Transom of why she decided to put her name on a collection of wines, which range from Amarone Classico to Pinot Grigio. (Because she's charitable, the actress autographed a few bottles and gave them to United Way, St. Judes and the New York Food Bank.) "You have enough actresses selling perfume and hair products and crèmes and lotions," Ms. Bracco, who currently stars on Lipstick Jungle, said. "Wine's a lot more fun!"
She was wearing a bright red dress and walking back and forth on a crimson carpet set up in the basement of the experience eatery. Reporters and photographers were grouped on the other side of a series of velvet ropes. Hard Rock diners filed past in apparent confusion.
After a New York reporter, who was essentially sitting on our shoulders, was finished asking her if she had ever gone to bed with another woman—"Birthing my children was a little bit of a lesbian experience," she responded with a befuddled look—Ms. Bracco told us that sometimes she drinks too much wine and "gets carried away." But, she added, "we're only here once. And also, red wine is really good for you."
Fellow Sopranos star Steve Schirripa also stopped by. "Lorraine is a lot of fun, she always shows up at everybody's events. Her wine is like her—it really pops out and it's great," he droned, as if reading off a teleprompter mounted behind our head. "It's all good, man." (Mr. Schirripa did admit that Ms. Bracco's "performance is much better than her wine.") Then came View co-host Joy Behar, who, when asked by a publicist to pose for a picture with Ms. Bracco, snapped: "Ugh, fine. Get her over here."
"Lorraine is full-bodied; she's classy; she's multi-colored," Curb Your Enthusiasm's Susie Essman said. "Lorraine has a lot of facets to her—dark, light, funny, serious, and all good wines should be really complicated like Lorraine." Asked how a sommelier would describe her, Ms. Essman said she "would be a wine with a very short fuse" (which, we inferred, must be expensive to produce).
"I happen to be a very huge red wine drinker," Ms. Essman added. "I drink a glass of wine every day. And I think it's really, really healthy. And there's something about red wine that feels good when I drink it. Like when I drink vah-kah, it doesn't feel good. But when I drink red wine, it feels like it's going into my bloodstream."