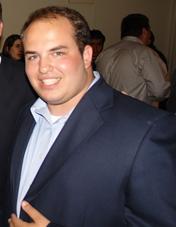 Well, someone is working the holiday weekend! Times Wunderkind Brian Stelter has five bylines in today's Business Day section.
Granted, the stories aren't epic—the longest one is a bit under 800 words—but taken together, they average a very respectable 550. Here's the lineup: the Northern Illinois University student newspaper was first on the ground with news on the school shooting last week; Jared Kushner has started a Politicker empire; Showtime has made a deal to broadcast in Sheraton Hotels; Jon Stewart didn't use a teleprompter or cue cards during the writer's strike; and Katie Couric has had a 'Schoolhouse Rock' moment (CBS News used animation during its Evening News broadcast to explain superdelegates).
We'd already suspected that Brian Stelter could be emerging as the next Sewell Chan.
When we asked Stelter about that today, he politely declined to comment, but he did say that he had today off.
In related news: at Sewell Chan's City Room, having the day off means not publishing stories. See for yourself here.