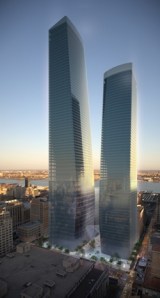 Brookfield Properties seems to like the architectural veterans over at Skidmore Owings and Merrill these days. Brookfield brought on the longtime firm to design its two signature towers in its bid for the West Side rail yards, and now the mega-office landlord has released an SOM-designed rendering for two office towers on a superblock to the east, bounded by 31st and 33rd streets, and Ninth and 10th Avenues (which are rather reminiscent of the designs for the rail yards to the east). The site currently opens to rail tracks that lead into Pennsylvania Station.
The Times' Charles Bagli had a piece today on Brookfield's development, and while the print edition had a small rendering, the online version went without it. Accordingly, I called over to the folks at Brookfield, and they gave us the pretty picture to the right.
Brookfield announced plans earlier this month to start construction on a $600 million platform over the rail tracks around June, with completion expected in 2010. The first of the office/mixed-use towers could see completion by 2013; though, as CEO Ric Clark told us a few months back, they probably won't build without a tenant
Update: 2:30 p.m.
If the renderings don't show it, these towers will be really, really tall. The one on the left is supposed to be 66 stories at 1,216 feet, while the one on the right is supposed to be 60 at 935 feet, according to a Brookfield spokeswoman.
For comparison, the Empire State Building is 1,250 feet.