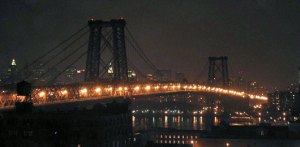 As a teenager I spent a fair amount of time traversing New York City's urban terrain in search of live music. I was partial to punk. I spent a lot of time at Saturday punk matinees at ABC No Rio and the Dumbo art collective DUMBA. At 16, I marched down to the DMV to get a resident ID to prove to CBGB's Hilly Kristal that I was old enough to shove people to an orchestra of power chords.
I remember the devastation of Giuliani's ruling against dancing in bars and the death knell of advancing gentrification, the demise of the places I used to frequent (except for ABC No Rio, which managed to buy its squatted building from the city in the late 90's and is now planning a serious renovation). In a recent article for The Observer, Chris Shott described the debilitating regulatory environment that many music venues contend with now.
Despite that, New York is great for music, inspiring to create it and inspired by listening to it. I'm now convinced that thanks to iPods, I can have the most private, intimate conversation on the Q train home without anyone hearing a thing I say.
"Honestly, I think we're living in a really amazing time for music – it's almost like some kind of renaissance or something," guitarist and Ditmas Park resident Bryce Dessner of The National told me two weeks back when I interviewed him for this paper. "So many different bands on so many different levels are supporting themselves and making really good music and touring; even in New York there's like huge bands and little bands and all these bands just out there and doing stuff, making the music they want to do. There's places to play, and a lot of support between each other."
That support helped birth many unconventional venues in non-commercial spaces in Brooklyn, some new, some long-established, forced underground by the hardship of regulation. Practice spaces – which are far too expensive to keep in Manhattan anymore – like basements and lofts are used for spontaneous or even planned and guerilla-promoted shows and parties. While Manhattan sees a plethora of DJ nights, and granted Brooklyn does too, underground lofts virally promote new music, Brooklyn being the party end of Manhattan's mullet.
Of course, there are the establishment venues – like BAM (Brooklyn Academy of Music), which I adore and which is very much onto the cultural wave that's hit Brooklyn throughout the last decade or so. Last weekend, I brought along my friend Kyle to see the first of The National's two sold-out nights there. (The Brooklyn-based band even invited Brooklyn's own indie superstar, Sufjan Stevens, to join them on stage for a song.) Kyle lives in Greenpoint and frequents lofts that by day would never be recognized as nightlife destinations.
"Dead Herring and Woodser are probably my favorite places," he told me. "The shows are more like parties, with people drinking and hanging out on the roof. It's always crowded, because they only have shows when good bands are coming through. It's not a 'venue' in that they need to have shows to make money."
No longer are wayward gentrifiers staring longingly at the Williamsburg Bridge from their loft parties, hoping to someday find a good deal on rent in the East Village, Lower East Side or the like for the nightlife. In fact, it seems like many Manhattan residents shun the carnival-like atmosphere and rationalize staying put by leaning on the crutch of convenience.
"The best best shows that I've been to in Brooklyn are the places that you go only once or twice," continued Kyle. "They don't have a name, and they pop up, then disappear just as quickly – the ones that feel really secret and ephemeral."
Last year, while still a resident of Manhattan, my friend Justin and I headed to Clinton Hill where a loft party was getting under way. I crawled up the rickety warehouse stairwell to find a young woman collecting $10 outside of a steel doorframe. Inside, an unexpected crowd of partygoers mixed and mingled. Barely legal Hasidic men swayed to jungle beats near sassy Puerto Rican gals, one of whom introduced herself to me as Lecstasy (for the drug), a regular at the space. These experiences, a sequence of New York moments, thankfully still exist.
On my way back to Manhattan early the next morning, I watched longingly as Brooklyn disappeared over the Manhattan Bridge. That's when I realized I didn't want to live in Brooklyn for its convenience to Manhattan; I wanted to live in Brooklyn because it's everything I wanted Manhattan to be.