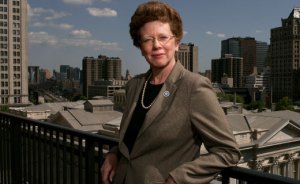 Testifying before the City Council earlier today, Department of Buildings commissioner Patricia Lancaster called for new regulations on general contractors and concrete contractors, responding to the cacophony of criticism that followed a fatal accident at the Trump SoHo.
Her recommendations include making general contractors and concrete contractors register with the city in order to do business in the five boroughs, and requiring that concrete contracts have a safety manager for high-rise construction, according to prepared testimony.
Also of note: 2007 saw 12 fatalities and 128 injuries on construction sites, compared with 18 fatalities and 116 injuries in 2006.
Ms. Lancaster's prepared testimony below:
Good morning Speaker Quinn, Chairman Dilan and other members of the Housing and Building Committee. I want to thank you for this opportunity to discuss safety concerns at construction sites. I am here this morning with Robert LiMandri, the first deputy commissioner of the Department and Richard Mendelson, Area Director of the Occupational Safety and Health Administration.
Construction is, as we are all aware, a hazardous activity – indeed the United States Department of Labor's Bureau of Labor Statistics cites construction as the second most dangerous occupation in the country after transportation. High-rise construction, which the current Building Code defines as construction of buildings 15 stories and over in height, poses a special set of risks. High-rise construction poses increased risks to the construction workers who often work hundreds of feet up in the air, exposed to the wind and other elements; increased risks to the public, who live, work, and pass near or under these construction sites; and increased risks to emergency responders, who must find their way through complex, partially completed construction zones when called upon for emergency assistance. And high rise construction in New York City invariably takes place in the densest areas of the City where the placement of cranes, the installation of protective fences and scaffolding, deep excavations, installation of foundations near adjacent buildings, and the movement and storage of heavy materials and equipment near crowded sidewalks, streets and buildings are all fraught with exceptional problems. But mid-rise and low-rise construction, as well as excavations and foundation work, can pose dangers to workers, the public and neighboring structures. The simple fact is that any careless construction practice can lead to terrible results.
Despite the recent turmoil in the national housing and financial markets, construction activity in New York City continues to proceed at an extremely heady pace. From 1996 to 2007, new building and alteration permits in the City increased from 50,000 to almost 90,000. In the six months between July 1 and December 31, 2007, led by an increase in alteration permits, initial construction permits in New York City rose by 4.5% from 42,415 to 44,324, even though permits for new building decreased from approximately 2,860 to 2,200, or 22.8%.
The sustained high pace of construction in New York City has kept the Department's engineers, architects, inspectors and staff extremely busy: on an annual basis, we are conducting over 200,000 construction inspections – and an additional 200,000 inspections related to specialty trades which include plumbing, electrical, boilers and elevators.
Compliance by owners and the construction industry with the safety requirements of the Building Code is of course our highest priority: last year we issued 50,000 violations, responded to 12,000 emergencies, and issued 5,000 Stop Work Orders. While the Department's inspectors of course cannot visit every job site every day, we are working to increase the visibility of our inspectors in the field to demonstrate to the industry that our inspectors may show up at any time.
Over the last few years, with the Mayor's leadership and the support of the City Council, the City has adopted a large number of major new legislative initiatives. These initiatives have given the Department additional tools to meet the challenges of the City's large and vigorous construction industry. I think it worth reviewing the most important of these legislative initiatives. First, last July the Council passed and the Mayor signed the new NYC Construction Codes, which represented the culmination of an enormous collaborative effort between industry and the City designed to bring the City's Codes into the 21st century. Those codes enhanced safety in many ways: sprinklers were mandated in more buildings; modernized fire alarms are required in more occupancies; and structural integrity in new structures were enhanced. In addition, numerous construction safety enhancements were included. Just to note a few items: First, the new codes expand the types of construction jobs at which site safety managers will be required, which I discuss more fully later in my testimony. Second, adjacent properties were given enhanced protections: the 10 foot distinction, marking the point at which the developer performing an excavation was responsible for protecting adjacent property, was eliminated, regardless of depth of excavation. Third, the new codes codify Rule 52, requiring notice to the Department before certain earthwork operations can be performed, thereby enabling the Department to perform spot checks of safety measures.
Other legislation passed last year will also enhance construction safety. In August 2007, the Mayor signed a bill originally sponsored by Councilmember Oddo requiring the registration of general contractors for one, two and three family homes. This was truly groundbreaking legislation: for the first time, the Department was given a tool to keep track of some of the general contractors so as to keep those contractors out of the industry who repeatedly violate the Building Code either by building unsafely or not in accordance with approved plans. We have commenced outreach to the one, two and three family homebuilding industry on the new general contracting registration requirements; the legislation will be fully implemented by the end of this calendar year.
Other major legislative initiatives recently adopted include substantially increased penalties in four important areas relating to construction: violation of stop work orders; work without a permit; illegal conversion of industrial lofts into illegal residential units; and discipline of architects and engineers who intentionally or negligently submit plans to the Department that do not conform to law.
I want to thank you Chairman Dilan, Councilmember Oddo, and Council Speaker Quinn, for the extraordinary leadership you have shown and the working relationship you have established with my staff in working on such a major legislative agenda. The legislation you have helped formulate and shepherd through the Council has given the Department important tools that give all players in the construction industry notice that development must be constructed in compliance with the laws that have been designed to protect the public.
In addition to these major legislative initiatives, implementation is of course also key. Last July the Mayor announced Phase 1 of a Special Enforcement Plan for the Department, a $6 million baseline plan to further raise the bar for construction standards citywide. Phase 1 included 67 new staff lines to the Department to support a new proactive, multi-disciplinary enforcement model. In addition, the Department was funded with a $1 million annual 15 member scaffold safety team whose impact I describe a little later in my testimony this morning. We also have created an excavations safety team and a stop work order patrol, partnering inspectors with deputy sheriffs from the Finance Department to create dedicated teams to visit sites to ensure that Stop Work Orders are complied with.
And in addition to these Departmental enhancements, I also want to mention our adoption by rule of a new requirement for all construction sites that do not have a Site Safety Manager. As of January 1, 2008, these sites, including demolition sites, must designate a construction superintendent who has taken required safety courses.
All of these efforts were adopted in our effort to establish a more pervasive culture of safety and compliance in the construction industry. I would like to just briefly outline for you our Scaffold Safety Initiative, both because it impacts both high-rise and low-rise construction sites and because it demonstrates how effective changes in enforcement, education and outreach can be.
In November 2006, as a result of a severe spike in scaffold related deaths and injuries, the Mayor's Office convened a Scaffold Safety Task Force to provide recommendations on how to reduce scaffold accidents. The Task Force, which I chaired under the leadership of Deputy Mayor Carol Robles-Roman, was comprised of a wide range of professionals from the federal, state and city governments, immigrant advocacy groups, and representatives of workers and contractors involved in the scaffold industry. Representatives from OSHA were particularly active and helpful, and I want to thank them particularly for their assistance. The Task Force made 13 recommendations regarding scaffold outreach, training and enforcement, including increased penalties for non-compliance with safety rules, increased emphasis on training, and an increased staff at the Department to focus on compliance. The recommendations were adopted – including higher penalties implemented by the City Council and increased staffing at my Department. And the recommendations paid off: scaffold fatalities dropped 86% from 7 in 2006 to 1 in 2007, and injuries dropped 52% from 25 to 12. Yet notwithstanding this major improvement, just last Wednesday a construction worker on a scaffold fell to his death: while the incident is under investigation, and I cannot comment yet on the cause, it is another sad reminder of how much care must be taken. Behind every individual death and every major injury is a tragic story for the workers and families involved. We must never be complacent; as the statistics show, the improvement in scaffold safety has sadly not been matched in uniformly in other many phases of the construction industry.
Specifically, construction related injuries and fatalities over the last two years are shown on the accompanying chart. In 2006 there were 116 injuries and 18 fatalities; in 2007, 128 injuries and 12 fatalities. The majority of the injuries and fatalities occurred in accidents involving material or workers falling.
Further analysis demonstrates, as shown on the next chart, that reported accidents on high-rise construction sites increased from 2006 to 2007, from 24 to 51, while reported low rise accidents decreased from 76 to 65.
The increase is accidents at high-rise sites paralleled an increase in active job sites for high-rise buildings. There were 21% more high-rise buildings under construction in the City in 2007 than in 2006: 219 as compared with 181.
< /span>
When we analyzed these statistics and the incidents underlying them, several trends became apparent which have led me to conclude that the construction industry in general, and concrete operations in particular, need more regulation. First, the number of accidents reported at high-rise sites is growing faster than the number of sites themselves. Second, material falling is an area of particular concern. Our analysis showed that "material fell" caused by concrete operations constitutes a very high proportion of the incidents: 61% in 2007. And a closer look at the figures showed the three following factors as the leading causes of concrete operations accidents:
45% Poor Housekeeping (especially storing materials too close to the building's edge and movement of formwork, shoring material and plywood)
42% Improper installation of formwork and related shores
13% Stripping operations (removal of wood and other materials used to make the forms into which concrete is poured).
As most of you know, since 1983, the Building Code has required that a licensed Site Safety Manager be employed at all major building sites. To my knowledge, New York City is the only City in the country that mandates the presence of a site safety manager at construction sites. Site Safety Managers have proven to be an extremely useful tool in reducing accidents at these sites. They are required to have extensive experience and training in safety measures, take an examination, and are ultimately responsible for compliance with the Code at the high-rise sites for all matters other than those under the direct supervision of a licensed professional (architect or engineer). The number of sites where site safety mangers will be required will increase within the next year. Under the existing building code, "major buildings" requiring a site safety manager are defined as:
15 or more stories, or
200 feet or more in height, or
100,000 square feet or more of lot coverage regardless of height.
These cut-offs will be reduced to 10 stories or 150 feet, thereby increasing the proportion of sites covered by the site safety requirement. However, more needs to be done, for much of the increase in the accidents is taking place where site safety managers are employed.
In light of the incident at 246 Spring Street, and after continued discussions with industry and elected officials, I have concluded that both general contractors and concrete operations need to be more closely regulated. Concrete operations are extremely specialized and require a precise coordination of large numbers of workers. Many trades and typically hundreds of workers are involved in concrete operations on a major concrete job. The tasks involved in the construction of a concrete building include: a) the fabrication of forms into which concrete is poured for columns, beams and flooring, all of which must conform in size, shape and strength to the specifications of a structural engineer; b) the shaping and cutting of the steel reinforcing bars that are then placed inside the forms to give the forms the structural strength necessary to carry the load of the structure; c) the erection of shores and braces to hold the forms in place while the concrete hardens around the steel reinforcing bars; the installation of the forms; d) the actual pour of concrete into the forms and onto the floors and the spreading of concrete within the forms; e) after the concrete hardens, the removal of the construction material from which the forms were made and its segregation into piles to be raised to the next level, where the materials from the formwork on the previous floor are often re-used for fabrication into a new set of forms and a new set of shoring and bracing materials; and f) on high-rise and mid-rise sites, the use of a crane to raise the construction material and concrete.
After consultation between the engineers on my staff and the representatives of the cement and construction industry, we have three specific proposals:
First, I would wholeheartedly support legislation that requires the registration of general contractors for all types of construction work. Although technical changes need to be made, this legislation could be modeled in part on the law passed by the Council and signed by the Mayor last year requiring the registration of general contractors obtaining permits for 1, 2 and 3 family homes. This registration would enable the Department to track the performance of the contractors with respect to their compliance with safety requirements and the Building Code. In order to obtain a permit from the Department, the general contractor would need to be registered. A registration requirement – and a requirement that fines be paid before registrations are renewed – would give us a very valuable tool to ensure that contractors comply with the Code. In fact, just the existence of a registry can help in the avoidance of incidences. For example, when we need to distribute information to builders, such as a notification about new code requirements, we will be able to re
ach more sites by having that reliable data.
Second, in light of the size and significance of concrete operations at major construction sites, I would also propose that concrete contractors be similarly registered. While concrete is primarily used in New York City for the construction of residential buildings – commercial buildings are almost all built instead with structural steel – concrete's ubiquity in virtually all neighborhoods and the special dangers inherent in the large number of operations and workers that must be coordinated suggests that concrete contractors be registered. Concrete operations indeed are so complex that the concrete contractor is really a subset of general contractors, employing numerous laborers and engineers and hiring numerous material companies to assist in the completion of the their contracts. As with general contractors, registration will enable us to better ensure that operations are code compliant, that safety violations are attended to and fines paid, and that recalcitrant actors come into compliance before registration is renewed. The Department will be able to track the concrete companies by requiring the company obtaining the underlying permit – whether new building, alteration or foundation – to disclose the concrete subcontractor and require that the subcontractor be registered.
Third, the large number of persons and trades involved in concrete operations, and the large number of accidents that we have observed over the last year, demonstrate that we need to require concrete contractors to designate a concrete safety manager – a responsible party with the dedicated and specialized responsibility to monitor construction means and methods with regard to concrete formwork, pour schedule and pour operations, and stripping operations. This individual will, together with the engineer or architect be responsible for any specialized formwork and shoring, help ensure both that forms are constructed in accordance with the plans and specifications in the construction drawings and that best practices are used to eliminate the risk of serious and fatal accidents. The Department will work with Council and the industry to determine the specific training that this individual must have.
Lastly, in addition to these legislative solutions, we are seeking to raise the bar for construction standards with non-legislative process changes for the concrete industry as well, as you can see with the provided memo. While this is a work in progress, I'd be happy to go through those technical recommendations with you.
In conclusion, I want once again to thank you Speaker Quinn, Chairman Dilan, Councilmember Oddo, and your staffs, for the extraordinary assistance and leadership you have provided in what we have attained to date. The legislation and the Department's increased staffing levels reflect a recognition that Code compliant construction, using modern construction standards under a modernized Code, is critical to New York City's continued viability as the financial, cultural and tourist center we are today. I am eager to continue to work with you to improve standards in the construction industry, to make it safer for the public, for workers, and for future generations who live and work here.