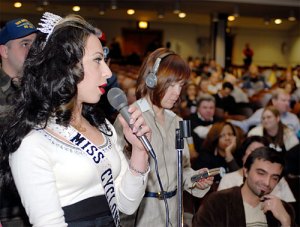 "I think it's very bad-ass," said Brooklyn burlesque queen Angie Pontani. "It's a really bold move and I'm proud of the city for coming up with it."
She was referring to Mayor Michael Bloomberg's controversial plan to redevelop Coney Island.
"In the face of Coney Island becoming a high-rise luxury condominium development, I think this is definitely a really good scenario," Ms. Pontani told The Observer. "I think anything that preserves the amusement district is a good idea."
Ms. Pontani, who started her career dancing on the Coney Island boardwalk, has joined forces with "Save Coney Island" activist Dianna Carlin and producer Jen Gapay to stage a "tilta-whirling event to promote awareness" of Bloomberg's plan next month at Southpaw in Park Slope.
"There were some public information sessions about the plan that we were attending and it didn't seem like people were really getting the message," explained Ms. Pontani, who also spoke out on the issue at a community meeting last month.
"There are all these rumors going around still about everything," she said. "And I think if the community knows, they're going to make their voices heard."
The March 8 spectacle will feature "[w]ild bands, the best of burlesque and side show, dance party DJ's, gorgeous Go-Go gals, never-before-seen slide shows, Coney-centric videos," as well as a "roll up appearance from the hot rod Rumblers Car Club," according to a press release.
"We're going to have this fabulous parade down Fifth Avenue of rah-rahs leading up to Southpaw," Ms. Pontani said.