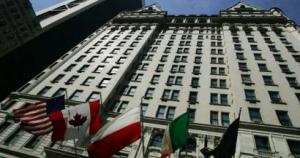 It might be a slight overstatement to say that asking rents at the Plaza have been cut in half in 2008, but, boy, have things changed since the first rental was listed last summer.
In September, Sotheby's listed a one-bedroom Plaza rental at an eye-popping $30,000 per month that is still on the market. Meanwhile, 12 of the 14 other rental units that have come online since August have languished on the market; and, this month, The Real Deal reported that Plaza condo owners have started to cut asking rents to spur interest.
Now, enter the the two-bedroom Plaza rental listed this past Sunday by Century 21 NY Metro. It's going for $16,500 a month. Granted, it only has garden views, but still… a two-bedroom at the Plaza.
Century 21 broker Robert J. Rosa says he has shown the apartment to a German antique dealer and an investment banker who returned for a second viewing and planned to make up his mind today.
Century 21 expects to list three or four more one- and two-bedroom units at similar price points by next spring as more buyers close. So far, only two one-bedroom apartments, at $11,000 and $12,000, have been rented, in November and February, said Mr. Rosa, but he his optimistic that by "March or April" they will all be in contract.