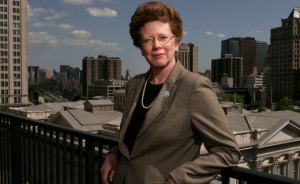 Patricia Lancaster, commissioner of the city's Department of Buildings, is seeking to tighten the leash a bit on builders, pushing for new legislation for "increased enforcement tools" in coming weeks.
The department says it is increasing staff dedicated to inspecting sites and plans, increasing the cost of violating "stop work" orders, and beefing up inspections of sidewalk sheds.
Also of note, the department wants to put the architectural plans of new buildings online by 2009, allowing anyone and everyone to see what's in store when a developer applies for a building permit.
Release below.
BUILDINGS COMMISSIONER LANCASTER OUTLINES AGGRESSIVE AGENDA FOR CONSTRUCTION SAFETY AND ENHANCED ENFORCEMENT ON JOB SITES AT AGENCYWIDE MEETING
Strategic Plan for Next Two Years to Include New Staff, Legislation to Increase Construction Safety, New Standards for Architects and Engineers, and Next-Generation Technology to Increase Transparency
Buildings Commissioner Patricia J. Lancaster, FAIA, today delivered a progress report on implementation of the Department's 2006-2009 Strategic Plan, outlining goals and objectives to improve construction site safety by building upon the foundation of reform established over the last six years. Under this plan, the Department will take a multipronged approach that includes operational, legislative and educational solutions to ensure safe construction practices are followed at each and every construction site. This approach will ensure contractors, architects and engineers are held accountable for unsafe work. Joined by Mayor Michael R. Bloomberg, Deputy Mayor Edward Skyler, Department of Investigation Commissioner Rose Gill Hearn, and Chief of the Fire Department Salvatore Cassano, Commissioner Lancaster delivered this report today at the Department's Agencywide Meeting at the Jacob K. Javits Convention Center in Manhattan.
"With new staff, tough legislation, higher standards for the construction industry, and new technology, we are doubling our efforts to ensure that construction occurring across New York City is safe and compliant," said Commissioner Lancaster.
Improving Construction Site Safety
Over the next two years, the Department will improve safety on construction sites by conducting intensive inspection sweeps; tracking architects, engineers and contractors to identify repeat offenders; utilizing Stop Work Orders to make it too costly to ignore building and zoning rules; and making the construction and inspection process more transparent.
"We are tasked with the critical job of reducing construction accidents, raising safety standards and holding builders accountable. We now have the tools to force the industry to comply with safety regulations or else we will halt their work," said Commissioner Lancaster.
The Commissioner announced that the Department will:
* Deploy New Staff to Crack Down on Unsafe Construction. As part of Phases I and II of the Special Enforcement Plan, 88 staff lines have been allocated to raise the bar for construction safety standards citywide. The staff forms seven new special enforcement teams to proactively inspect construction sites, audit professionally-certified plans, and build cases against architects, engineers, contractors, and owners who are found to be repeat offenders. Under Phase III of the Plan, to be launched this summer, the Department will focus more staff to continue its crackdown on unsafe construction. Benefitting this new staff will be tailored enforcement measures introduced with the New NYC Construction Codes that reclassify violations and allow the Department to focus enforcement efforts on the most serious issues and repeat offenders.
* Ensure Adjacent Properties Are Protected During Excavation. The Department's Excavation Team, created under the Special Enforcement Plan, will continue to proactively monitor excavation work to ensure contractors adhere to safe excavation standards. Contractors with unsafe excavation work underway will be issued Stop Work Orders until they comply. To complement this increased oversight, the New NYC Construction Codes will require surveys of adjacent properties to be conducted before excavation begins to ensure they are adequately protected during excavation.
* Make It Costly to Disobey Stop Work Orders. The Stop Work Order Patrol, comprised of Buildings inspectors and City deputy sheriffs, will continue to carry out unannounced spot-checks on construction sites with active Stop Work Orders. If work continues in violation of a Stop Work Order, inspectors will issue violations carrying immediate civil penalties that must be paid before the Stop Work Order may be lifted.
* Target Unsafe Scaffolds and Sheds. As part of the new Safety Analysis & Field Inspection (SAFE) Scaffold and Sidewalk Shed Initiative, Building inspectors will be examining over 1,500 sites around the city to ensure scaffolds or sidewalk sheds are installed properly. Sites with unsafe scaffolds and sheds will be issued violations and Stop Work Orders. The results of these inspections will be brought to the Scaffold Safety Task Force to develop additional measures to protect scaffold workers and the public.
* Enhance Scaffold Worker Training. As chair of the Scaffold Safety Task Force, Commissioner Lancaster will continue her partnership with the Mayor's Office of Immigrant Affairs and the U. S. Department of Labor Occupational Safety and Health Administration to revise and streamline training requirements that scaffold workers must fulfill, ensure new training standards are being implemented, and promote safe scaffold practices through distribution of safety information at worker centers.
* Outline an Aggressive Legislative Agenda to Add Enforcement Tools. In the next month, Buildings Commissioner Lancaster will outline an aggressive legislative agenda that will call for increased enforcement tools for the Department.
* Increase Safety with Handheld Computers for Inspectors. Under a program called B-FIRST, the Buildings Field Inspection Reporting System, all inspectors will be provided with handheld computers that will allow inspection results and violations to be entered from the field and uploaded immediately to BISWeb for Buildings employees and the public to view in real time. With B-FIRST, the inspection process will be made more efficient and results more accurate, while eliminating delays in reporting crucial safety information at construction sites.
Instituting Higher Standards to Hold the Construction Industry Accountable
Over the next two years, the Department will increase its oversight of builders, architects, engineers and contractors by ensuring those who disobey building and zoning regulations are held accountable.
"We are using our powers to push the industry to a higher standard. It's not going to be easy, but we will work hard and as quickly as possible to ensure safety on construction sites," said Commissioner Lancaster.
The Commissioner announced that the Department will:
* Put Industry on Notice of Safe Construction Standards. The Department will release industry handbooks that outline safety standards for excavation, demolition and new building construction. The handbooks will incorporate the most up-to-date practices and techniques that contractors and l
icensed professionals must follow to ensure safe work.
* Set New Standards for Architects and Engineers Who Professionally Certify. With the New NYC Construction Codes, the Department will reform the professional certification system by establishing standards that licensed architects and engineers must meet and maintain to participate in the program. With the new standards, repeat offenders who continuously disobey building and zoning rules can be stopped from professionally certifying much sooner.
* Stop Repeat Offenders from Filing Applications. Recently-enacted legislation enables the Buildings Commissioner to refuse applications filed by architects or engineers who, after due process, are found to have filed false or fraudulent documents. By refusing applications, the Commissioner prevents the architect or engineer from doing business with the Buildings Department.
Utilizing Cutting-Edge Technology to Streamline Operations
Over the next two years, the Department will enhance its transparency and efficiency by providing online access to critical information such as permit applications and architectural plans, automatic error-checking of construction permit applications prepared electronically, and identification of safety trends through a new Compstat-like system. These enhancements will enable the Department to aggressively tackle safety problems on construction sites.
"We've implemented crucial initiatives from the 2006-2009 Strategic Plan that have integrated technology into our daily operations, to the point at which we are now able to transform from a reactive agency to a proactive one," said Commissioner Lancaster.
The Commissioner announced that the Department will:
* Enable a Paperless Permit Application Process by 2009. The Department has made it possible for individuals to file applications for electrical permits online, and now over 80% of the electrical permits are issued electronically. This e-Filing program was expanded this year to allow the electronic preparation of applications for construction jobs. By 2009, the e-Filing program will enable applicants to file all documents associated with permit applications from their home computers.
* Make Architectural Plans Available Online via BISWeb. New technology called B-SCAN, the Buildings Scan and Capture Application Network, already enables the online management and retrieval of most documents associated with applications for construction jobs. B-SCAN, a major component of the 2006-2009 Strategic Plan implemented last year, has eliminated the possibility of lost or misplaced job folders. By 2009, the Department will expand B-SCAN's capabilities so that architectural plans will be scanned and provided online as well.
* Enhance Reporting System to Focus on Safety Trends. Using new business intelligence technology launched last year, the Department will develop a Compstat-like system to aggressively track safety trends. This system will enable the Department to deploy focused resources to effectively ensure safety on construction sites.
Building on a Foundation of Reform
Since 2002, the Buildings Department has worked aggressively to streamline its processes, improve transparency, and infuse integrity and accountability into its daily operations.
"Since I was appointed in 2002, we have been working to build a foundation of integrity, accountability, and transparency. I am proud to say this foundation is strong. We have established a new and transformed Buildings Department, positioned to serve New Yorkers for 2008 and the years beyond," said Commissioner Lancaster.
The Commissioner announced that:
* Vacancies Are Filled and Additional Employees Are Being Hired. In 2002, the Buildings Department had over 250 vacancies. Thanks to support from Mayor Michael Bloomberg, the Department has successfully filled the vacancies and increased its headcount by 64.5%, from 791 budgeted employees in 2002 to 1,301 budgeted employees in 2008.
* High Ethical Standards Are in Place for Staff and Construction Industry. In 2004, Commissioner Lancaster released the Department's first ever Code of Conduct to set a standard of behavior for all employees, from commissioner to clerks at permit windows. Written in plain language, the Code of Conduct sets a zero-tolerance policy for serious misconduct, criminal and corruption-related activities. In 2006, the Code was distributed to members of the construction industry to put them on notice of the Department's policy toward such activities.
* Partnership with Department of Investigation to Root Out Corruption. In 2004, the Buildings Special Investigation Unit (BSIU) was created to investigate complaints and allegations of wrongdoing within the construction industry. BSIU is an ongoing partnership between Commissioners Gill Hearn and Lancaster to eliminate corrupt activities within the construction industry.
* Online Database Makes Construction Process Transparent. BISWeb, the Department's online database, has expanded since 2002 to contain detailed information on every one of the 950,000 buildings and properties in New York City. In 2007, BISWeb reached a milestone when the majority of documents available in job folders were made available to the public in real time via BISWeb. The database is a crucial tool used by Buildings staff, the construction industry, elected officials and community leaders, and the public; it now receives over 750,000 page hits per day.
* New Technology Has Streamlined the Department's Operations. Recognizing that successfully re-engineering the Department would require infusing technology into its daily operations, the Buildings Department has invested over $25 million dollars since 2002 in new technology. With this funding, the Department overhauled and modernized its outdated and inefficient network. In addition, the Department provided updated computer terminals to staff who, for years, worked on computers that crashed every day.
"This year will serve as the cornerstone of a new role for the Buildings Department. For the first time in the Department's 150-year history, we are positioned to transform to a proactive enforcement model, a structure that's better able to meet the modern challenges of building in our uniquely-dense urban environment. With the strong foundation we have in place and the new initiatives we have in the pipeline, we are poised to change the way we protect New Yorkers who work on our construction sites, who live or work in our buildings, and who are walking the City's streets," said Commissioner Lancaster.