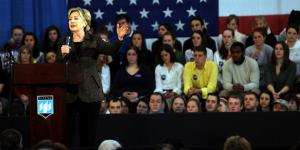 A bad weekend for Hillary Clinton just got a whole lot worse.
Along with her husband and her daughter, Clinton had campaigned aggressively in Maine, with an eye toward blunting the impact of Barack Obama's expected Saturday night sweep of Louisiana, Nebraska and Washington and in an effort to avoid being shut out for the entire month leading up to the Ohio and Texas primaries.
But Maine's Democrats caucused on Sunday afternoon and decisively sided with Obama, marking his fourth consecutive victory since the Super Tuesday stalemate — and setting the stage for what will almost certainly be three more wins this coming Tuesday in Maryland, Virginia, and Washington, D.C.
Clinton's weekend wipeout will only made worse by the news that her Patti Solis Doyle is departing as her campaign manager, to be replaced by Maggie Williams. In reality, this may not be a seismic development within the Clinton campaign, but on the heels of such ugly election results, it will only feed into the process narrative that Obama has begun to move ahead and that Team Hillary is starting to panic.
Unquestionably, the Maine results constitute a major upset.
In addition to her family's politicking, Hillary was boosted by support from the state's Democratic governor, John Baldacci, and from demographics that seemed to favor her: a preponderance of lower-income white voters — a constituency with which she has done very well to date — in the state's inland cities and many working-class towns. She had also previously fared well throughout the Northeast, losing only Connecticut (and narrowly at that).
But with nearly 90 percent of precincts reporting, Obama's lead had stretched near 20 points. Record turnout was reported around the state — the last vigorously contested Maine caucuses were in 1992 — particularly in the more educated and higher-income coastal communities in the southern part of the state. Obama also fared well in college towns like Farmington and Waterville, and seemed to make inroads in some of the working-class strongholds that should have favored Hillary (for instance, he won Gardiner, which is just outside Augusta).
One reason Clinton campaign so badly wanted to win Maine was for a jolt of good news just before this Tuesday's primaries. They seem resigned to defeat in D.C. and Maryland, but have made a considerable investment in Virginia. At the least, they'd like to keep the margins close enough in those states to collect a sizable number of delegates — and to prevent Obama from taking the lead in overall (superdelegates included) national count.
But polls released Sunday show Obama leading by 16 points in Maryland and 18 in Virginia. Both are primary states, meaning they will attract more casual voters than a caucus state like Maine. And it is among these casual voters that Obama's weekend sweep — and the news of the Clinton campaign "shake-up" — could have a powerful psychological effect, making the Obama bandwagon that much more inviting and, perhaps, inflating his standing in both states.
Maine was the Clinton campaign's best hope of averting a shutout in the run-up to March 4. Now they might be happy just to avoid blowout losses between now and then.