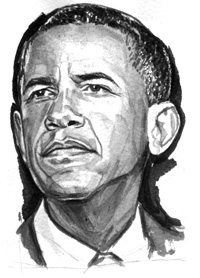 Hillary Clinton and Barack Obama are both capable of defeating John McCain in the general election. And, given the depressed state of the Republican Party and the restless mood of the electorate after eight years of George W. Bush, they'd both be favored to do so—even Mrs. Clinton, long derided as the most polarizing politician in the country.
But that hardly makes the electability question moot.
Start with Mrs. Clinton's status as every G.O.P. strategist's dream opponent, a figure unmercifully reviled, often unfairly, by the otherwise listless and unmotivated conservative base. The mere presence of Mrs. Clinton's name on this fall's ballot would almost certainly serve as a call to action to countless conservatives who, it is becoming clearer each day, feel no other compulsion to work on Mr. McCain's behalf.
There is also her demonstrated inability to secure significant independent support in this year's primaries. In making her case within the Democratic Party, her campaign has spun this as a virtue, arguing that her reliance on her party's core constituency groups proves that she is more of a true Democrat than Mr. Obama.
In reality, it wouldn't be that tough for Mr. Obama to unite those core Democratic constituencies around him if he were to win the nomination. Crossing over to support Mr. McCain would be unthinkable to most of them, and the idea that they'd stay home en masse to protest Mr. Obama's nomination is far-fetched. But it is much tougher to envision Mrs. Clinton making inroads with the independents who have rejected her in the primaries, mainly because supporting Mr. McCain—who owes his nomination more to independents than to conservative Republicans—would be a very viable option for many of them.
The simple conclusion from this is that, even though they'd both walk into the ring favored to defeat Mr. McCain, Mrs. Clinton is the riskier bet for Democrats because it's much easier to concoct a formula—motivated Republican base plus independents breaking to Mr. McCain—that leaves her coming up short.
And the ramifications of a Clinton candidacy could be much deeper than this.
In Senate and House races, the raw ingredients are in place for another banner Democratic year. The party has raked in eye-bulging amounts of cash for its Senate and House campaign committees, while the G.O.P. has flirted with red ink. Republicans in the House are grappling with a devastating string of retirements from members in potentially competitive districts, while the Senate G.O.P. is scrambling to defend 10 more seats than Democrats are. And with Democrats resurgent in Washington, they've had little trouble recruiting top-shelf candidates for marquee races.
The prospect of a Democratic president working with a muscular Congressional majority in January 2009 is not at all far-fetched. And that makes the name at the top of the Democratic ticket critical.
One of Mrs. Clinton's favorite pitches to Democrats is that, no matter how ugly it gets, she (and her husband) always seems to find a way to outsmart the Republicans. There is a lot of truth to this, but the kind of November victory she promises—a contentious, abuse-filled nail-biter in which she peels off those one or two red states that eluded Al Gore in 2000 and John Kerry in 2004—does not suit her party's broader imperative.
Consider Nebraska, a state that will almost certainly hand its five electoral votes to Mr. McCain no matter whom the Democrats nominate. It is home to a race for an open Senate seat, one in which Democrats face a very uphill—but not entirely insurmountable—battle.
With Mrs. Clinton as the nominee, it's nearly impossible to envision the Democrats picking off the Nebraska seat. Conservative turnout would swell, Republican-leaning independents would stay with Mr. McCain and his statewide blowout would trickle down to the Senate race, dooming the Democratic nominee.
But Mr. Obama could yield a different result. The G.O.P. base—judging by everything we've seen so far—does not view him with Clinton-like animosity. And, as his success with independents in the primaries has shown, Mr. Obama could make the ticket more attractive to non-Democrats. Is it any wonder that—amid record turnout—he won nearly 70 percent in Nebraska's caucuses two weeks ago?
Mr. Obama could have a similar effect in key races in South Dakota, Louisiana, Oregon, Colorado and Virginia, to name a few.
There are still Democrats who grumble that Bill Clinton's presidency worked out well for him personally, but not nearly so well for their party. If the party nominates Hillary Clinton, they may end up saying the same thing.