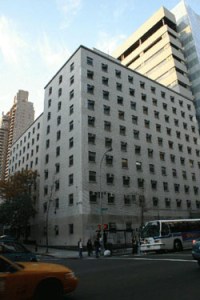 The hospital-heavy Upper East Side can expect yet another medical arrival, as Cornell's Weill Medical College seems to be moving ahead with a research facility adjacent to its current campus.
A building permit application filed this month with the Department of Buildings lays out plans to construct a 20-story tower at 1299 York Avenue, by 69th Street. The school, which has a partnership with New York-Presbyterian, had previously announced plans for a $650 million, 350,000-square-foot biomedical research center at that location.
The university was tight-lipped with specifics last week. Weill Cornell spokeswoman Myrna Manners declined to confirm the original cost and size figures, saying those were rough estimates released in late 2006 to celebrate a large gift to the university. Ms. Manners also declined to provide updated estimates, or an architectural rendering of the building.
"It's at a very preliminary stage," she said of the project, adding that a long approval process awaits. But, she added, "there are no obstacles."
The new project would join Weill Cornell's new 13-story ambulatory care center, which opened in January 2007 just up the block, at York and 70th Street. Both buildings are designed by New York architecture firm Polshek Partnership, which is also handling projects at the university's upstate campus in Ithaca. A separate project, unaffiliated with Cornell, is adding medical condominiums on East 75th Street to provide doctors in the clinic-packed neighborhood with office space.