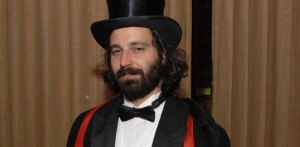 Editors' Note: This article has been corrected from an earlier version which misidentified the grandfather of Simon Hammerstein. We regret the error.
This Thursday, Valentine's Day, The Box, Simon Hammerstein's Lower East Side burlesque nightclub, will celebrate its one-year anniversary. To mark the occasion, the exclusive watering hole has arranged an evening of special return performances by the past year's most popular acts—entertainers like Buck Angel and the Porcelain Twins.
Talking to the Daily Transom today about the past year, Mr. Hammerstein, the grandson of acclaimed lyricist Oscar, said the highlight of the past 12 months was "that we had a small little idea and a lot of people checked in and made it pretty exciting."
We couldn't get him to be competitive about other downtown hotspots like Socialista and Beatrice Inn, which have seen their share of celebrity upchuck mop-ups as well.
"We're all actually really supportive of each other and it feels like one big familial community," he said. "I go to Socialista and I go to Beatrice; their [respective well-known owners Armin Amiri and Paul Sevigny] come to The Box. It's really quite lovely. You know, I come from the theater world, where people are really a lot meaner. [The nightlife world] is much more of a warm and embracing community. I'm shocked, really."
According to Mr. Hammerstein, the coming year will usher in an updated performance schedule and renovations to the club's physical space, including the stage itself.
"If you look at the program from last year till now, certainly we kept pushing the boundaries of what we thought people would be able to take," he told us, adding: "And each time we did, it paid off because people really responded well to stuff that I thought they would get creeped out by. People had a lust for the absurd and the surreal more than I thought they would."