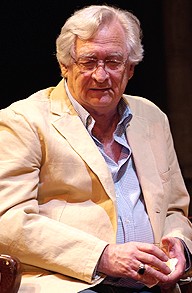 Dennis Letts, a retired professor and an actor who made his Broadway debut this season in his son's acclaimed play August: Osage County, died on Friday from cancer. He was 73. August: Osage County, written by Tracy Letts, originated with the Steppenwolf Theater Company in Chicago last summer and opened in New York in December to some of the year's best reviews. Dennis Letts played an Oklahoma patriarch whose disappearance sparks an acrimonious family reunion.
Mr. Letts, whose cancer was diagnosed in September, was an English professor for 30 years, mostly at Southeastern Oklahoma State University in Durant. He performed in community and university stage productions during those years and took up acting as a second career after retiring from teaching. His acting credits include "Where the Heart Is," the film version of a novel by his wife, Billie Letts; he served as an editor for her novels.
In addition to his wife and his son Tracy, of Chicago, Mr. Letts is survived by his sons Dana, of Wagoner, Okla., and Shawn, of Singapore; and a brother, Ray.
Despite his cancer diagnosis and treatment, he chose to go to New York with "August: Osage County," performing eight shows a week until very recently.
"You're talking to a fellow who's gone from Tishomingo Community Theater to Broadway," Mr. Letts told The Tulsa World in an interview in November. "That's quite a step."