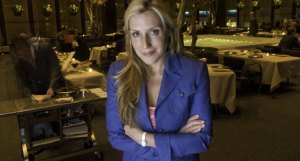 The only thing more exciting than today's news about the upcoming sale of Bob Guccione's townhouse (or about Sharon Baum's Vespa), is Prudential Douglas Elliman's annual awards ceremony, taking place right this moment, until noon, at Cipriani 42nd Street.
It's the stuff real estate dreams are made of! Annual broker awards, especially at a monolith like Elliman, are about money, status, competitiveness, salesmanship, hierarchy and, of course, self-celebration.
Yet Elliman, it turns out, does not appreciate it when real estate reporters try to attend. After a series of e-mails and phone calls last night with Elliman's public relations team, I was turned away at the softly red-lit entrance to the 65-foot-high, 87-year-old ballroom today at 9:12 a.m.—first by one well-dressed woman, then a second nice woman and suited man came over too.
Elliman will release the winner list later today, so why should they care about reporters attending? One reason might be the well-covered 2004 ceremony at the Pierre, in which Michael Shvo essentially beat out his partner-turned-foe Dolly Lenz—she won broker of the year, but he was declared winner of "the all-time sales earning record in history."
At the ceremony, Donald Trump reportedly called Ms. Lenz "one of the great killers of all time."
Two days ago, I talked with Elliman president and CEO Dottie Herman. Does she remember the Lenz-Shvo tension? "Let me tell you something, there's always tension; there hasn't been a year there hasn't been tension, it doesn't matter who the people are," she said.
"There's a whole story behind that, but the truth is, there's always tension. And if you didn't have tension you wouldn't want people in the company. Why would you want to have a company where people didn't care if they were No. 92 or No. 9,000?" she said. "People make it like it's a horrible thing. Everyone I know that's good is always competitive. If you weren't competitive, then something would be wrong, you'd be in social work. There are government jobs, there's social work. In this kind of an industry, you want competitive people.
"It's not about people being snakes necessarily," Ms. Herman said. "It's about people wanting to be at the top of their game."
I asked about a rumor that Ms. Lenz, despite her continuously massive sales, won't be No. 1 this year. "First of all, why would I tell you? Because that is one thing that no reporter will know."