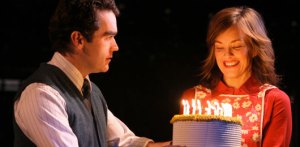 This week I report on a new musical about suicidal depression, a new play about suicidal loneliness and the revival of a classic play that hinges on suicide. And how are you today?
There's nothing inherently wrong with the novel theme of Next to Normal, the soft-rock musical about the middle-class mom who's a clinically depressed pill freak. Sitting across the aisle during the performance I attended at Second Stage Theatre was Stephen Sondheim, the founding father of the modern musical: urban desperation and neurosis (Company); the ravages of time and old age (Follies); Grand Guignol murder (Sweeny Todd); love and physical ugliness (Passion); lunatics and presidential slaughter (Assassins); or even newly opened diplomatic relations between isolationist America and the Japanese in 1852 (Pacific Overtures).
I don't know whether Mr. Sondheim enjoyed Next to Normal. (He seemed to). But it's clear at least that contemporary musicals can be about absolutely anything. (Think of Spring Awakening). The big number in Next to Normal, in which Mom hallucinates on the operating table during electroshock treatment, is a first. And in theory, it holds out revolutionary possibilities.
Had the show and its ECT scene gone unsafely beyond its surface promise, I'd be acclaiming the musical as the avant-garde equivalent to the Who's innovatory, insane Quadrophenia (1973). Created by Tom Kitt (music) and Brian Yorkey (book and lyrics), and directed by Michael Greif of Rent, the new musical cries out to be liberated from its own clichés. Mark Wendland's flashy three-tiered set is more cramped than it need be, as if straitjacketing the action. But the problem with Next to Normal is that it simply isn't disturbing.
The electroshock scene amounts, at best, to a mild, kitschy echo of The Who's Tommy of 40 years ago. Hallucinating Mom, surrounded by a battery of light bulbs, twitches tamely as her doc sings about "feeling electric" and strips down to reveal himself costumed, alas, as some kind of retro-rock star about to cruise a gay bar.
Rock on Dr. Fine!
MEANWHILE, NEXT TO Normal remains very uncertain of its tone or of what it wants to be. I'm loath to say this about its young writers, but, for all their gifts and ambition, Next to Normal is too frustratingly close to showbiz normal.
There's sometimes perky, long-suffering Mom (the excellent but too sweet Alice Ripley); her compliant, saintly husband (Brian d'Arcy James, who manages to bring convincing emotional texture to someone "living on a latte and a prayer"); their crazy adolescent daughter, a neurotic musical prodigy (played by the 16-year-old Jennifer Damiano, who shines in the evening's best number, "Superboy and the Invisible Girl"); and her doggedly devoted boyfriend who's as big a dope as her dad.
There's also a shrink who announces stuff like, "It's been three weeks and we've got to break through to the roots of your depression!"
I ought not to reveal who the ghostly presence is who keeps tempting Mom to kill herself, though the twisted spookiness of his character is the one bizarre element that could rise to Sondheim's inspired heights. But when a show ostensibly about a tragedy of chronic depression wants to send us home happily reassured with a rousing send-off titled "Let There Be Light," its showbiz heart is depressingly in the wrong place.
LONELINESS IN THE city (that never sleeps) is the wan theme of Unconditional, Brett C. Leonard's downer of a play at the Public Theater. Its shadowy opening image of a helpless white man, silenced by duct tape, who's standing on a chair with a noose around his neck somehow manages to be peculiarly, flatly undramatic, as a black man nearby smokes a cigarette, mulling over murderous thoughts.
What should be horribly shocking is smoothly and knowingly contrived, an arty tableau. Like many other of Mr. Leonard's short, overlapping scenes of desperation and urban violence laced with racial tension, the atmospheric high points are less the outcome of the playwright's self-consciously gritty writing than the resonating effect of the terrific blues soundtrack.
Directed by Mark Wing-Davey for the LAByrinth Theater Company, Unconditional is a film onstage in the interwoven storytelling tradition of Paul Haggis' Crash, with a touch of Quentin Tarantino's simmering ultraviolence. Mr. Wing-Davey's set designer (Mark Wendland again) has divided the Public's Shiva Theatre into two audience sections at opposite ends to each other, and a few spectators watch the action from above as if in a small arena. The stage itself is divided by mobile partitions into three playing areas with the intention of creating "filmlike" sequences and different perspectives in close-up, medium long shot and long shot—depending on the view from your seat.