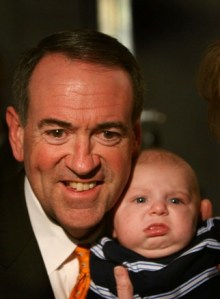 It's not snowing in Wisconsin, but it's cold.
Neither Hillary Clinton nor Barack Obama will be in Wisconsin (or Hawaii or Washington) when the results come in.
Free pumpkin cookies for voters and is a good example of "Wisconsin nice." [third item]
The Clinton campaign is lowering expectations for Hawaii and Wisconsin.
Both the Clinton and Obama campaigns say they are not trying to woo pledged delegates.
What it means for a delegate to be "pledged" isn't entirely clear, Ana Marie Cox discovers.
The Call and Post, an Ohio newspaper owned by Don King, will back Obama.
Ted Kennedy begins to stump for Obama with Texas Latinos tomorrow.
Newsweek profiles John McCain's chief economic adviser.
McCain has started surrounding himself with youth.
Cindy McCain says she "is proud of her country," then denies declines to say whether she was responding to Michelle Obama's comments yesterday.
Sam Brownback does not support Obama or his "radical leftist agenda."
A New Jersey resident who saw Michael Bloomberg this morning recalled: "I said, 'Can't wait for you to run.' He kind of ignored the question."
Malcolm Smith's campaign treasurer, Joan Flowers, wants to run for City Council against Greg Meeks' chief of staff.
Ben Fried grudgingly admits Richard Brodsky achieved his goal of sowing doubts about congestion pricing during a recent debate.
Eliot Spitzer denies his aides berated Christine Quinn's.
Here is the "Spitzer Radio Edit" of the Kylie Minogue song "In My Arms."
Earl Hutchinson says black voters "will likely be disappointed" with an Obama presidency.
Citizens Union wants a probe of how the city Board of Elections came up with their initial results from the February 5 primary [added]. 
A Texas superdelegate recounts a suprise phone call from Bill Clinton.