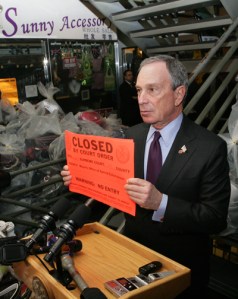 William F. Buckley Jr. is dead at 82.

Michael Bloomberg said, "I think it's a fair assumption that we will not be doing a petition drive in Texas."
Bloomberg is making black cars in New York City go green.

Eliot Brown notes that the M.T.A. capital plan doesn't mention the No. 7 extension.
Dan Janison checks in with Jon Tasini.
A blogger in central New York says it'll cost a lot of money to protect the seats Democrats are winning in the state Senate.
The Democratic establishment may have found a candidate for the 118th Assembly District's special election.
In the comments section, Tish James gets support to become the next Speaker of the City Council.
Bill Clinton doesn't like Barack Obama's line about refighting those fights from the 90s.
John Lewis officially, finally switches his support from Hillary Clinton to Obama.
And pictured above is Michael Bloomberg at a press conference yesterday about cracking down on counterfeit goods in the city.