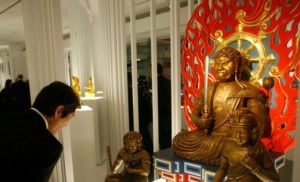 The main attraction of "The Vision and Art of Shinjo Ito," currently on display at Milk Gallery in Chelsea, is a sixteen-foot long golden Buddha. The figure, Great Parinirvana, reclines on his side, moments before dying and entering nirvana. The sculpture is so large and shiny it seems like a light source. As Ito was not only an artist but also a Buddhist monk who helped found an order, the effect was no doubt intentional.
"He uses art as a tool of spiritual extension. Art is an internal part of the Buddhist devotion," said Hiroko Sakomura, the show's executive producer. She wore a pastel multicolored kimono at the exhibit opening Wednesday night. The event drew 420 people, including Padma Lakshmi and Nanette Lepore.
The exhibit displays mostly religious figures and relief images, though it also includes calligraphy and photography. It commemorates the centennial of Ito's 1906 birth (the show first opened in Japan in 2006; the artist died in 1989). Ito's sect, Shinnyo-en, has about 900,000 followers, including a temple in White Plains. His daughter, Shinso Ito, is its spiritual leader.
Columbia Buddhism professor Robert Thurman (yes, father of Uma) helped organize the show. It's a tribute to Ito and a way to introduce more westerners to Shinnyo-en, he explained.
"Buddhism is a whole way of life, it's art, ethic," he said. "It's a huge thing that spread all over Asia without any crusades or anything as sort of a level of higher behavior."
The Buddha sculptures are beautiful, if similar. They merge into a mental amalgamation of every other traditional Buddha likeness. But Ito's non-religious sculpture, including likenesses of family and friends, are distinctive. A portrait of the artist (as an old man) reveals a dapper gent in a three-piece suit owning his armchair a la Abraham Lincoln. Busts of his two sons have cheeks that seem more like skin than resin. These lifelike, affectionate depictions reveal an artist in full control of his skills.
Ito's Buddhist sculptures sit calmly atop square white pedestals lit from within – figures in a modernist enlightenment. Who wouldn't want to strive for that?
At Milk, 450 West 15th Street, through March 30.