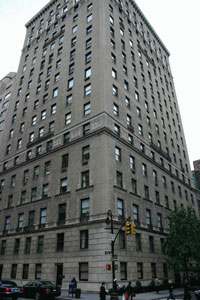 Four deeds registered with the city between December and midafternoon on Valentine's Day document the deal struck between private equity boss Frederick Iseman and his Paris-educated ex-wife for their co-op at 550 Park Avenue, one of the city's fanciest and most staid buildings.
According to the records, she ended up with exclusive lifetime use of the co-op. But before that happened, according to the first deed, Mr. Iseman actually began by buying out her stake for $5 million. Then over the next three deeds he transferred ownership to trusts run by his family. Mr. Iseman will also be paying his ex-wife five convenient yearly sums, adding up to about $10.5 million, according to the agreement attached to deeds. (After The Observer contacted Mr. Iseman for comment, copies of that agreement were deleted from city records.)
The furnishings get distributed democratically. Two paintings of women (one by Sir Joshua Reynolds) and a French 18th-century chair will be sold off, and the proceeds divided. Things become much more interesting from there: She gets the den lamp for six months—then it goes to him; six silver shells in the living room and four Venetian boxes in the library are split up equally.
That leaves 26 other items to be divvied up over a monthlong span, from a Raphael tapestry in the library to "2 Blue Jars with Lids in Living Room," plus, of course, a bedroom painting called Allegory of Vanity. "Any items on which the parties cannot agree," the deed says, "shall be listed and divided by alternating choices with coin flip determining who has the first choice."
Aside from losing the co-op, things are looking up for Mr. Iseman. In November, that $125,000-per-year ex-secretary, Fatima Monahan, was indicted for stealing over $43,000 from him. (At the time of her lawsuit, which has been stayed, his lawyers maintained that Ms. Monahan had made up her salacious charges after getting fired for theft.)
The indictment says she used her boss's credit card to buy, among other things, kitchen utensils; more glamorously, according to the separation agreement, the Isemans' silver tray came from 19th-century Nigerian chief Nana Olomu, who defied British imperialists and was deported.