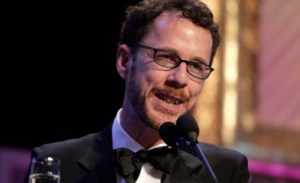 Ethan Coen's playwriting debut, Almost an Evening, sold out before previews began on January at the Atlantic Theater Company. So if you missed now, here's your second chance to cop tickets: The three short plays will transfer to an Off-Broadway run at The Bleecker Street Theatre starting March 20 and ending June 1. The limited run is expected to feature some of the same cast that created the trio of short works at Atlantic Stage 2, including Academy Award winner F. Murray Abraham. Check out our interview with Mr. Abraham in the Jan. 17 issue of the Observer. "It's a treat," Mr. Abraham told The Observer over the phone. "This is the good stuff, the good material, and you don't see too much of that these days."
More from Playbill and ticket information after the jump.
Abraham and Mark-Linn Baker are expected to return to the piece, although the transfer cast has not been announced.
Don't expect Jonathan Cake or Elizabeth Marvel to reprise their work — they're booked with other jobs.
The commercial Off-Broadway transfer will be produced by Atlantic Theater Company (Neil Pepe, artistic director; Andrew D. Hamingson, managing director) and Art Meets Commerce (Chip Meyrelles, executive director; Ken Greiner, producing Director).
According to the producers, "In Ethan Coen's Almost an Evening, three short plays unsuccessfully tackle important questions. In Waiting, someone waits somewhere for quite some time. In Four Benches, a voyage to self-discovery takes a British intelligence agent to steam baths in New York and Texas, and to park benches in the U.S. and U.K. In Debate, cosmic questions are taken up. Not much is learned."
Ticket prices range from $20-$50 and will be available starting Feb. 22 by calling Telecharge at (212) 239-6200 and (800) 545-2559, online at almostanevening.com and telecharge.com or in person at The Bleecker Street Theatre, 45 Bleecker Street between Lafayette and Mott Street.