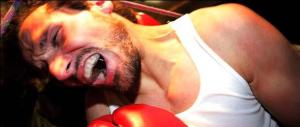 FormerNew York Times reporter Charlie LeDuff is joining the metro team at the Detroit News. Fishbowl NY has the memo, and reports that Mr. LeDuff is packing it up from California and heading back to his native Michigan.
Media Mob took a moment to search for some old clips about LeDuff in the Observer and stumbled upon a gem from 2002 that reported Mr. LeDuff was going west to cover stories for the Times. In the brief item that follows, Mr. LeDuff confirmed the move, but had to file a story so he handed over the phone to metro reporter Jayson Blair who explained, "He won't be chasing wire stories."
"I'm going to L.A., bro," said Charlie LeDuff, slice-of-life reporter for The New York Times , denizen of bars and box cars, and-if you ask others inside the journalism mill on West 43rd Street-a favorite of executive editor Howell Raines.
An announcement of his move had appeared several days earlier in the Daily News , but there was little news of what awaited in California. Like the Joads before him, Mr. LeDuff seemed unsure himself. What will you write? "News stories." Why are you going? "'Cause they told me to."
Mr. LeDuff said he was writing on deadline and asked if he could have 15 minutes. Twenty minutes later, he picked up the phone again, put it on hold, and when he came back, had brought metro reporter Jayson Blair onto the line. "He's my representative to the press," Mr. LeDuff said.
"It's a new opportunity. After Sept. 11, we all knew there were going to be a lot of changes," Mr. Blair said of Mr. LeDuff's move. "He's going to be roving around the region, very similar to what he's been writing." Mr. Blair wanted to make an important point about his cohort. "He won't be chasing wire stories."
And what of the Bending Elbows column Mr. LeDuff has written for The Times ' City section? Who would be taking that over? "No one," Mr. Blair said. "No one, we hope."
(Elsewhere, City section editor Connie Rosenblum said, "No decision has been made.")
Mr. LeDuff got on the phone and said of his Bending Elbows column, "It was a good run, and I'm anticipating closing the doors on the saloon."