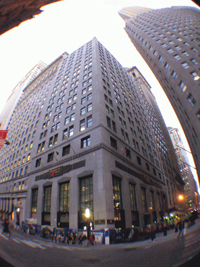 As financial firms sit tight, another law firm is expanding in the Financial District. The firm of Carter Ledyard & Milburn has signed a renewal and expansion for 122,000 square feet at Fieldstone Capital's 2 Wall Street.
The firm, once the employer of Franklin D. Roosevelt, added 10,000 square feet to its offices, signing a 15-year lease on all the space.
"We've certainly grown over the years, and we expect to continue," said Heywood Shelley, counsel for Carter Ledyard & Milburn.
Asking rents in 2 Wall Street are around $45 per square foot. George Comfort & Sons is listed as the broker for the property, though a representative did not return a call for comment.