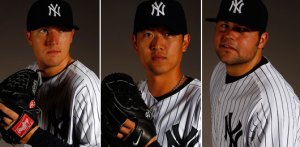 Any time a team returns a lineup intact that scored 968 runs, as the New York Yankees did in 2007, chances are that team will excel again the following year.
But there are a number of questions the Yankees will begin to answer this spring that will determine if this year's team will win ugly during the regular season and fall short against the American League's best pitching in October, or if the Yankees finally have the right mix of youth and experience.
Like personnel-deprived teams that played during World War II, New York's starting pitching may be either too young or too old. The Yankees have one starter, Chien-Ming Wang, who is in his prime. He may not be a true ace, given his low strikeout rate, but he is likely to provide better-than-average production, and more importantly, innings.
As for the remainder of the rotation, three candidates, Joba Chamberlain, Philip Hughes and Ian Kennedy, have accumulated a total of 115 2/3 career innings. Most of those are from Hughes, who was average last season. Chamberlain dominated, but as a reliever, and he will begin the year in the bullpen to keep his innings down. And Kennedy pitched well in his 19 innings, though a low batting average on balls-in-play made his performance look more effective than it actually was.
But young pitching is tremendously unpredictable—and the Yankees need at least two of these three pitchers to provide a full slate of innings pitched. Effective innings will help, too. Watch Hughes and Kennedy this spring—if both look strong, the Yankees can use Chamberlain out of the bullpen early, and either keep him there, or use him to replace one of the old guys.
Which brings us to Mike Mussina, who may be finished as a good major league pitcher. He has ended up with a wose-than-average ERA+ in three of the past four seasons—his ERA in 2007 was 5.15. And it got worse for Mussina as the year went on—he was at 4.62 prior to the All-Star break, 5.72 afterward.
To judge if Mussina will provide any value to the 2008 Yankees, watch his fastball velocity. At 92, he can get hitters out. At 89, he's hittable. At 86, he qualifies as a performance-enhancing drug for the opposing lineup.
And speaking of PEDs, all eyes will be on Andy Pettitte this spring as he attempts to move past his inclusion in the Mitchell Report, and his subsequent admission of repeated HGH use. Pettitte was solid for the Yankees last year, but he suffered a troubling drop in his strikeout rate. He has provided at least 214 1/3 innings each of the past three years (ironically, the two seasons he admitted to using HGH are the only two since 2000 when he failed to reach 200 innings pitched)—so watch him this spring for any signs of fatigue or distraction. The Yankees simply can't afford a subpar effort from Pettitte—their top stop-gap option, besides Chamberlain, is Kei Igawa.
And Chamberlain may well be needed in the bullpen, which has Mariano Rivera and nothing but questions. The top relief acquisition was LaTroy Hawkins, whose strikeout rate of 4.4 per nine innings over the past two seasons is nothing special. Other alternatives include Kyle Farnsworth, whose strikeout ability deserted him in 2007, while his knack for allowing home runs did not; Edwar Ramirez, whose changeup is devastating—but so was his walk rate (14 in 21 1/3 innings); and Jonathan Albaladejo, who was acquired from the Nationals, but has just 12 1/3 major league innings to his name.
A pair of indicators to watch for: Albaladejo and Ramirez have a much better chance of helping the 2008 Yankees than Farnsworth and Hawkins, but the latter two make more than $9 million between them. So watch who new manager Joe Girardi places in tough spots, particularly later in spring training. And expect a lot more patience for the struggles of Farnsworth and Hawkins.
Meanwhile, the Yankees are also experiencing a rarity this spring: a position battle. It is unclear who will play first base, with folk hero Shelly Duncan, utility player Wilson Betemit and former Astros' star Morgan Ensberg all in the mix. Duncan and Betemit would likely provide solid offensive production if strictly platooned, but Girardi may well go with the hot hand, meaning a strong spring could give any of the three a regular gig in April.
Girardi has even indicated that he wants more Jason Giambi at first base, but that desire is likely to fade once Girardi sees Giambi play the field. However, the desire is understandable, with so many graying offensive players. Between left field and designated hitter, the Yankees need to find time for Hideki Matsui, Johnny Damon and Jason Giambi, while Bobby Abreu and Jorge Posada could both use occasional DH time as well. Once hitters catch up to pitchers in mid-March, watch all of these players, and notice if they are getting around on good fastballs, or if they swing and miss too much. With the exception of Posada, all displayed signs of decline for extended periods in 2007, and the end for good hitters is often swift.