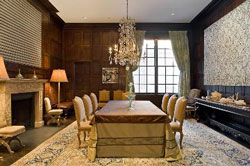 Beatific Upper East Side mansions sometimes have sad stories, even the bizarrely perfect six-story Colonial Revival townhouse at 127 East 73rd Street, designed by Stanford White in 1903.
On the bright side, the house was put on the market for $38 million with Corcoran, and has now gone to contract, according to an online listing. A source told The Observer that the buyer is Thomas Montag, the former co-head of securities trading at Goldman Sachs. He retired last year at age 50, though he's rumored to be taking another top banking job.
The source said Mr. Montag will be paying well below the asking price, which had been one of the biggest in the city. That would make sense, considering that the house is 22 feet wide—a tad below the size of New York's most expensive mansions.
Much more importantly, the sellers, a limited liability corporation called Toot Sweet, only paid $13 million in September 2003 for the house. According to the source, Toot Sweet belongs to the Irish-born financier John Hunt, who started Seattle Coffee Co. (which Starbucks bought), and Samantha Mortimer.
They bought from the estate of Anthony Fisher, the well-liked real estate developer who died that year. He and his wife had been flying to visit Cushing Academy in New England with their daughter, one of five children, who was considering enrolling. Mr. and Mrs. Fisher died when their plane crashed, but their daughter walked away.
According to marketing materials, their old six-bedroom townhouse now has a wide elevator; an entirely wood-paneled basketball court; a 20-foot-long media room; a steam bath and his-and-hers dressing rooms in the master suite; plus a massive climate-controlled wine cellar.
Mr. Hunt and Mr. Montag did not return messages.
Fisher's brother and development partner Richard died one year after his sibling's plane crash. His duplex at the haute co-op One Beekman Place was sold last month, city records show, to a trust in his sister Candia's name. The price was $9.45 million.