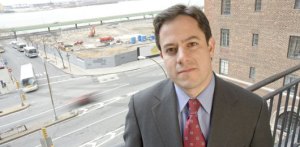 With the City Council preparing a vote in coming weeks on Sheldon Solow's plans for the Con Edison site; the UN expanding its campus into the nearby Marcus Garvey Park; and the reconstruction of the midtown portions of the FDR Drive set to kick off, Murray Hill residents are reminding city and state officials to prioritize the development of a waterside park in the area.
Last spring Councilman Dan Garodnick, the Municipal Arts Society, and Community Board 6 unveiled a plan developed by six architects during a charette to build a park spanning a six-block stretch of "abandoned riverside pavement" between 36th and 41st streets. There seems to have been little progress since then, the group is convening another press conference at the East River Esplanade tomorrow morning to "call on the city and the state to do what is necessary to deliver a waterfront park," said Mr. Garodnick.
"We are smack in the middle of discussions about what will happen with the East River site… and we need to show that there is the political will and capital funds to make this happen," he explained.
The biggest stumbling blocks will be getting the city to commit to covering the estimated $100 million cost of the project and getting an easement from the property's owner Sheldon Solow. Neither have been forthcoming as of now.
"East River Realty company has said repeatedly that they are interested in building up their property in a way that integrates a park… and we are having conversations with government entities at all levels," Mr. Garodnick said.