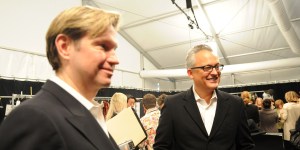 "We just want to get it over with—we have to move mountains this week," designer Mark Badgley lamented to the Daily Transom the other evening at a party uptown.
But after the soft hair-salon music had come on, and Anna Wintour, in impenetrable shades, and Marcia Gay Harden had made their way through the swarm of shutterbugs and I-don't-care-that-she's-famous glances, everything at the Badgley-Mischka show in the tents at Bryant Park this morning started looking pretty effortless.
It looks like a Mary Tyler Moore-inspired fall 2008 collection. (Floppy-felt wide-brimmed hats. Massive, square-ish amber-tinted sunglasses. Houndstooth jackets. Glen plaid trousers.) Even without a freeze-framed, graduation-style hat toss, the "you're gonna make it after all" vibe definitely got across. This allusion, at least to us, seemed a fresh, kitsch-free kind of style nod. And not at all ubiquitous at Bryant Park this week. At Fred's, maybe. But in the tents this week, surely not.
The other theme was food. In addition to Badgley Mischka's 16 various items described as "chocolate," spectators were told of "paprika hammered" tops and dresses, "green apple" sweaters and tees, a "black boiled wool topper" and "lamb" vests.
In the end, though, it was the collection's final set of evening gowns that seemed to remind everyone of what these guys do best. Speaking to us at the same recent Park Avenue party, socialite Marissa Bregman, a B.M. fan if there ever was one, compared the label's elegant dresses to fine art. Indeed, after seeing their argent/gold/jet sequin chiffon gown—the show's final piece—almost float away all celestial like, the comparison suddenly made perfect sense.