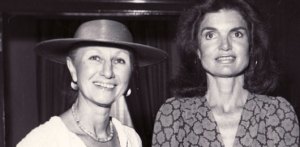 The literary agent Roslyn Targ was at a party many years ago, standing in a circle with a handful of publishers, when she spilled red wine all over her gown. It was a white gown and thus made quite a mess, but Ms. Targ, wearing one of her elaborate hats and a wide, colorful scarf that looked like a Klimt painting draped across her shoulders, did not miss a beat. "She said, 'Excuse me!' and went to the ladies room," her friend Joyce Engelson remembers. "And when she came out, she had taken off the white dress and taken this very wide sash and pulled it around herself like a sarong. It went from the top of her bosom down to her thighs."
According to Ms. Engelson, this happened at the Frankfurt Book Fair. For Ms. Targ, who made her name during the 1950's and 60's selling translation rights for American books to foreign publishers, Frankfurt was the most important event of the year: The annual international book party was where the queen of foreign rights did most of her business, dining at the best restaurants in town and staying up late with the world's most respected publishers. She also enjoyed martinis, "very, very dry with Beefeater gin with a smidgen of Boissiere vermouth and a lemon peel."
It was because of Ms. Targ and the agency where she worked that Europe read F. Scott Fitzgerald, J. D. Salinger, Harper Lee, John Dos Passos, Sherwood Anderson and countless others.
These days, at age 82, Ms. Targ no longer jets to Germany, or any of the other far-flung places of her earlier days (she has been to Paris 25 times and has favorite hotels and restaurants in Brazil, Portugal, Spain, Italy, Germany and England). Her once-bustling firm—named after its founder, Franz J. Horch, when Ms. Targ started working there upon graduating from Hunter College, but known as the Roslyn Targ Literary Agency once she bought it out and took over in the 70's—oversees only a fraction of the foreign contracts it used to (Ms. Targ has limited herself to selling Spanish and Portuguese rights for Simon & Schuster and little else), and over the course of the past few months she has been steadily shrinking her stable of American authors.
"I don't want to take any new American authors because I wasn't selling the ones I took, because times have changed," Ms. Targ said last week, her voice rising and falling dramatically while the sophisticated accent she cultivated early in life faded in and out. "I cared about them and I kept sending them around, and then I just said, 'Enough is enough!' I realized, I go to the bookstore and read 10 pages, and I say, 'I would've rejected that! I would've rejected that!' And so I said, 'What am I doing? I've paid my dues!"
Indeed she has. And though most of the publishers and agents she knew in her glory days have either died or retired (this is old age!), to many in the business she remains a grand dame of the book industry. Her stories recall a time when publishing was a classy affair, uncluttered by bottom lines, BookScan and kabillion-dollar gambles on advances.
"When Roz went to Frankfurt, it was just extraordinary," said her friend Robert Weil, the executive editor of W. W. Norton. "The foreign agents would be waiting, and these Brazilian publishers would book their dinners with her a year in advance. I always heard wild stories of her trips to Paris and her Frankfurt trips, and there would always be stories of, you know, Michelin five-star restaurants that I'd never heard of and still haven't gone to. And she would describe these dinners with the great publishers of the 20th century, and she knew them all. And many of them were extremely devoted to her."
Ms. Targ herself is sure that the incident with the white gown actually happened at a dinner party in Atlanta that she attended with her late husband, Bill Targ, the legendary publisher who discovered Mario Puzo for G. P. Putnam's Sons. "There was a guy there," Ms. Targ said in an interview, "and he says, 'What can you say to this Targ woman! She even changes for different courses!'"
She has always had a reputation for glamour, and she was beloved by luminaries like Italo Calvino, Henry Roth, Samuel Beckett, Erich Maria Remarque, Henry Miller and Saul Bellow. Men adored her—even James Baldwin, who playfully made gestures toward seducing her one night at the Four Seasons even though he was gay. ("I was wearing a Jean Harlow dress and he was kissing my arms; we were the scandal of the party!")