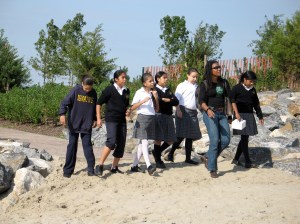 Traditionally, there has been a trade-off perceived between protecting the environment and economic growth. But sustainability analysts reject this trade-off and argue that economic growth requires effective environmental stewardship. According to New York Times columnist Thomas Friedman, "green is the new red, white and blue."
In his article "The Power of Green," Friedman argues that green is not about cutting back. "It's about creating a new cornucopia of abundance … It's about getting our best brains out of hedge funds and into innovations that will not only give us the clean-power industrial assets to preserve our American dream but also give us the technologies that billions of others need to realize their own dreams without destroying the planet."
That's the goal of the Green-For-All campaign, which pushed Congress to provide $125 million to train 30,000 people a year in green trades. While I have reservations about the new federal Energy Independence Act of 2007—it did manage to authorize $125 million for the creation of a Green Jobs program, a worker-training program that helps poor people qualify for jobs in energy-efficient construction or the renewable power/biofuels industry.
The Act also includes an annual $2 billion Energy Efficiency and Conservation Block Grant administered by the Department of Energy and the US Conference of Mayors.
This program is supposed to help local governments develop and implement energy efficiency and conservation strategies.
The goal of improving energy efficiency in building is a major theme of PlaNYC 2030, Mike Bloomberg's sustainability plan that identified existing buildings as a significant source of greenhouse gases and concluded that incentives were necessary to encourage building owners and tenants to reduce their carbon footprint.
Now some Environmental Science and Policy Masters students at Columbia University's School of International and Public Affairs are working with Sustainable South Bronx (SSB) to develop a "green jobs" model for New York and other cities.
The project is led by faculty advisor Gail Suchman, a Lecturer at Columbia's SIPA and Law School, and an attorney in the environmental practice at the law firm of Stroock Stroock and Lavan.
The students are working to identify opportunities and obstacles to green-job training and recommend a business plan for the development of a green-building retrofit program.
"This is an opportunity for people to take ownership of revitalizing their neighborhoods and cities," says Suchman. "It's about creating jobs for a community, because we can't wait for the government to do it any longer."
The project takes a three-prong approach to creation of green-collar jobs:
Analyzing incentives for economic development in areas like the South Bronx
Requiring the equipment and technology necessary for sustainable development to be developed locally; and
Training workers in fields such as green construction and retrofitting. The Columbia class includes 11 students with a wide variety of training and experiences.
"The diversity of folks attracted to the project is extraordinary," says Suchman, who describes the class as a mixture of science, business and public policy interests. "It's good to see this merger of economics and environmental protection," Suchman adds. "I think it will really result in a new wave of environmental protection."
Sustainable South Bronx's executive director, Majora Carter, has paid a visit to Suchman's class and has kept up on their progress through e-mails and phone conversations.
"She inspired the students, and she wrote in an e-mail that she was inspired by them," Suchman says.
Sustainable South Bronx runs the Bronx Environmental Stewardship Training program, which trains people in riverine and estuarine restoration.
The 10-week program shares the Green-For-All mission: giving ownership to workers who have an economic stake in the future of their local environment. According to Suchman, the green-jobs initiative is a broader view of what can be done.
It involves retrofits, environmental auditing and will expand on programs such as the green-roofs project, which involves replacing traditional roof tops with plantings that absorb rain water and provide building insulation. A green economy requires the help of government and nonprofits to push it along, but in the end depends on the private marketplace.
"To a degree, the market is already at work on this project — because some venture capitalists and companies understand that clean-tech is going to be the next great global industry," Friedman writes.
This emphasis on green jobs has the potential of transforming the environmental justice movement from a defense operation designed to reduce the impact of pollution on poor people, to a creative coalition to improve local economies while improving environmental quality.
Suchman observed that the environmental justice movement in New York has operated for more than 15 years. When it began it was mostly about fighting toxics and pollution. Today, it has been so successful that it is shifting its focus from lawsuits and litigation to community revitalization.
"The Green-For-All project is a natural extension of all the environmental justice groups' mission. This is an opportunity to be proactive in community vitalization and to create jobs that can't go overseas," Suchman says.
I am grateful for the reporting and research assistance on this piece provided by Sara Schonhardt, (Columbia Journalism School Class of 2008).
This content was provided for use by The New York Observer, specifically on Observer.com by the scientists and researchers at Columbia University. Any other use of this content without prior authorization from Columbia University and The New York Observer is strictly prohibited.