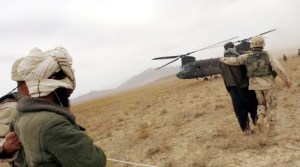 HBO has picked up the rights to air a controversial Oscar-nominated documentary, Taxi to the Dark Side, after the doc's content sent the Discovery Channel running. Taxi to the Dark Side, directed, written and produced by Alex Gibney (Enron: The Smartest Guys in the Room), focuses on the murder of a taxi driver at the U.S.' Bagram Air Base in Afghanistan. The homicide is used as a backdrop to investigate American use of detention and condoning of torture in interrogations. Mr. Gibney told Variety that he wanted the documentary to hit the small screen before the end of the election year.
The pay cabler negotiated with Discovery Communications to assume the first TV run of the doc, which will now bow on HBO in September. As part of the deal, Discovery maintained rights to run "Taxi to the Dark Side" on its Investigation Discoverychannel; those basic cable airings won't begin until 2009.
After it was apparent Discovery wouldn't run "Taxi" this year, HBO Documentary Films prexy Sheila Nevins said Gibney contacted her team directly to gauge their interest.
"We heard it was available, and now it's ours," Nevins said. "We're happy to put it on, especially before the election. When we see something we want and it's available, we go after it. It's raw, it's truthful, it's sad, and it's important for people to see. It has all the things we like in documentaries."
Gibney said he was concerned that "Taxi" might not hit TV screens — where it would get wider exposure than in theaters — this year.
"I was upset," he said. "This is a big election year, and these issues are important right now."