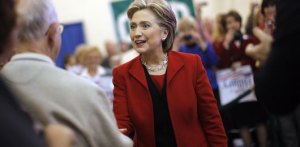 HANGING ROCK, Ohio—At a campaign event this afternoon on Ohio's southern-Appalachian border with West Virginia, Governor Ted Strickland introduced Hillary Clinton as a "person of substance."
"I think she is a pretty good talker herself," he said, tacitly comparing her to Barack Obama. "But I like what she says, not just how she says it."
So the campaign and its surrogates are definitely sticking with the talk-over-action theme, and Clinton herself argued that Barack Obama's lack of experience was revealed by his failure to actually chair any meetings of the senate subcommittee on European affairs because he was too busy running for president. ("I don't think he should be touting that as experience since he never did anything.")
But for the most part, Clinton herself hammered home the theme that she is the candidate who is most absolutely committed to fighting for average Americans—like regular folks in Ohio.
At the small gym in the Ohio University Southern campus child development center, she spent most of her time talking about health care and, except for a few sharp remarks—"My opponent only wants your children to have health insurance. I don't think that's smart"—she treated it as an opportunity to display her competence. Se answered questions, listened to testimonials and made the case that she was the candidate who knew the most about the issues and would fight the hardest to stick up for parents with sick children, sick parents who couldn't provide for their children, recently unemployed women being crushed by the burdens of debts and unfair government programs, impoverished elderly people who "go without eating" and end up in the hospital.
Clinton received several moving questions, to which she nodded meaningfully, and gave reassuring replies—"I'm so sorry that this is all coming down on you at one time"—before delivering detailed explanations of what's wrong with the government's policies.
And maybe because she was just north of West Virginia, she had a rather folksy patois going.
She talked about how she had stopped for lunch in a Bob Evans restaurant where she said she fueled up on good food.
"Y'all know about that," she said at one point. "There's no tellin' how much that costs," she said at another.
"People in southeast Ohio are, as Ted tells me all the time, are salt of the earth, great people," she said.
Near the end, Clinton asked the voters of Ohio to think of the election as a job interview and to "really stop and ask yourself what does our next president need to do."