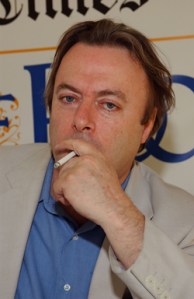 Christopher Hitchens, the British-born journalist-turned-American citizen circa 2007, stopped by New York University's journalism building recently. After class my friend Sophie and I tailed him to the elevator, where he was chatting with Steve Wasserman, former book review editor of The Los Angeles Times, and a lissome brunette with a book contract: stiff competition.
"Mr. Hitchens, I just want to tell you what a fan I am," said Sophie, extending her hand. Catching her London accent, he smiled and said, "Well, you're a long way from home. Would you like a drink?"
"Of course," Sophie replied, a bit surprised, eyeing the floor indicator on the rapidly approaching elevator.
"Great," he said, "who knows the closest place?"
Sophie glanced at me.
"I know a place right by here," I said. Mr. Wasserman and the brunette looked peeved.
I stepped into the elevator with Mr. Hitchens, exchanging furious hand signals with Sophie. "Get our stuff," I pantomimed, realizing I had left my wallet and jacket in the classroom. "Don't let him get away," she mimed back.
We went down. Mr. Hitchens is imposing: sharp eyebrows, a bit jowly, the hint of a pompadour. Outside, Mr. Wasserman bid Mr. Hitchens goodbye, receiving a smacking kiss on the cheek in return.
But the brunette wasn't ready to quit. She smiled wide and made her move.
"I'm going to meet some friends at a wine bar," she said, her gaze focused on her prey. "Would you like to join us?"
What chance did I have? I should have sent Sophie—tall and beautiful Sophie—down the elevator with Hitch instead.
"Well I would love to," he said to the brunette. "But I'm meeting a friend later and I don't think I should stray too far."
"I know a place right around here," I broke in. "A little bit of journalism history."
He nodded, "McSorley's. Yes, that is right near here."
The brunette made another try. She wanted Mr. Hitchens' number, so she could call him later. He told her he didn't have a cell phone. She demanded my number. I gave it to her, reversing the final two digits. Ooops.
Sophie appeared with our jackets.
"I used to go to McSorley's when I lived in New York," said Mr. Hitchens, who now resides in D.C. "I had to stop going. In those days there were no women allowed." He paused. "That wasn't necessarily a bad thing."
We took a seat in the back. The tables were old and wooden, the walls covered in memorabilia. The waiter, in strong Irish brogue, read us McSorley's drink menu: "Light or dark?"
Sophie went light, Mr. Hitchens and I dark. He took a sip and turned to Sophie. "So," he asked, "where exactly are you from?"
They chatted about the old country. Places with names like Glossberry and Carknuckle. I drank my beer. Mr. Hitchens said he'd come from a Navy family. I looked at Sophie; she was enchanting. I was back to square one.
Quick, I thought, change the subject. What about the passing of Norman Mailer?
"Very sad," Mr. Hitchens said. "For people my age, his books were huge events, a way to mark the passing of time." He recalled reading an advance copy of one of Mailer's less successful novels. "It was like this," he said stretching out his arms. "You just read a page, ripped it off, and kept going through the pile."
I asked if he was working on any fiction of his own. He said no, but there was a memoir in the works. He was currently reading Arthur Koestler as inspiration.