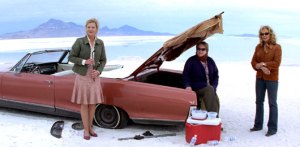 BONNEVILLE
Running Time 93 minutes
Directed by Christopher N. Rowley
Written by Daniel D. Davis
Starring Jessica Lange, Joan Allen, Kathy Bates
Christopher N. Rowley's Bonneville, from a screenplay by Daniel D. Davis, based on a story by Mr. Rowley and Mr. Davis, is the first feature film by writer-director Rowley and screenwriter Davis. Producer Robert May was associated with a prestigious 2003 release, Tom McCarthy's The Station Agent. Bonneville resembles this film in its reliance on natural locations and mostly exterior scenes far from the proverbially theatrical drawing rooms, which have never vanished from the screen, if we count the ever increasing number of shifts to the bedroom and its ancillary toilet. To put a point to it, Bonneville is a road movie with three women and actresses of a certain age traversing the breathtaking vistas on the way from Pocatella, Idaho, to Santa Barbara, Calif., with a stop along the way in Las Vegas in all its gaudiness. But when you have Jessica Lange, Kathy Bates and Joan Allen—three skilled comediennes with proven propensities for eliciting poignancy—on the trip, you are almost halfway there on the casting alone.
Ms. Lange plays a recent widow, Arvilla Holden, who persuades her two best friends, Ms. Bates' Margene Cunningham and Ms. Allen's Carol Brimm, to accompany her to Santa Barbara, where Arvilla will deliver the ashes of her husband, Joe, to her upscale snooty stepdaughter, Francine Holden Packard (Christine Baranski) for burial in the "family" burial plot. In an early confrontational and transparently expositional scene, Arvilla is warned that she will lose the house in which she has lived with Joe for 20 years if she does not deliver the ashes to their "proper" destination. We learn also in this scene that Joe died in Borneo, one of the many exotic places to which he traveled in search of adventure. Finally, we are made to realize that Joe was too impractical to have signed the papers that would have protected Arvilla if anything happened to him. Consequently, it would seem that Arvilla has little choice in the matter. Or does she? That is the question the film answers in a commendably breezy fashion.
The title of the film refers to Joe's 1966 Bonneville convertible, in which Arvilla decides to make her last trip with her husband to his final resting place. Unbeknownst to Margene and Carol, Arvilla is determined to keep the last promise she made to Joe regardless of the consequences. After their first surprise at seeing Arvilla in a car she hadn't driven in years, they are positively dumbfounded when Arvilla drives past the Salt Lake City airport, from which she had booked reservations for three to Los Angeles. As Arvilla explains it, she has decided to rediscover the scenic sights she had visited with Joe.
From this point on, there is very little incidental ambience in the film, as befits a low-budget project. The three merry pranksters experience only two significant encounters during their journey, not counting a would-be purse snatcher whom the three thoroughly thrash at a rest stop before he drives off disconsolately and purse-less.
The first benign intervention occurs when they are stranded in the middle of an enormous salt flat with a flat tire they are unable to change. Just then, seemingly from out of nowhere, comes a Latino long-distance hitchhiker from Central America. The youth answers to the name of "Bo" (Victor Rasuk), and is in search of his father, who had abandoned the family many years before. After he has changed the tire, he declines a ride from Arvilla because he is headed in the opposite direction. He accepts some money from her, but when Carol offers him a Mormon Bible, he smilingly declines, showing Carol two Mormon Bibles he has received on two previous rides. It is the first mention of Carol's Mormonism, but not the last.
The second benign encounter is with a friendly truck driver, Emmett L. Johnson (Tom Skerritt), with whom Margene shares an immediate, if embarrassingly expressed, mutual attraction. And that's just about all, folks, until Arvilla, Margene and Carol approach their destination and a climactic confrontation with Christine, but not before all three women have been reborn in what they had thought were their twilight years. At the very least, Bonneville deserves to be seen as a challenge and a rebuke to our supposedly youth-obsessed age.