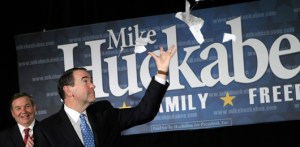 Signs point to a very long night for Hillary Clinton. Polls are still open in Maryland and in the District of Columbia, but they have just closed in Virginia—and news outlets have already declared Barack Obama the winner by a wide margin.
Virginia was Clinton's best chance of scoring an upset victory, or at least keeping the race close enough to declare a moral victory. If she has lost lopsidedly in Virginia, it points to even worse defeats for her in Maryland and D.C.
On the Republican side, the news is good for Mike Huckabee, who trailed by 30 points in Virginia polls just last week. But the Virginia race is now too close to call—perhaps the result (in part) of independent voters flocking to the Democratic primary, leaving a tiny and ultra-conservative Republican primary electorate. Huckabee needs a win—or a very strong showing—for his challenge to John McCain to retain its relevance.