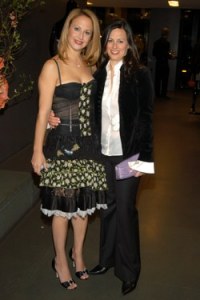 Each absurdly wealthy family is absurdly wealthy in its own way.Take Ira Rennert, who parlayed junk bonds and Hummer uber-vehicles into a slot (#891) on the list of the world's billionaires, not to mention an oceanic estate in the Hamptons (and, farther away, an equally-sized smelting plant in Peru, and a highly-polluting Missouri plant). Mr. Rennert, who grew up in Brooklyn, turns out to have an OK relationship with his daughters.
As I first reported late last month, he just bought two apartments, each over $30 million, for his two pretty daughters, Tamara and Yonina. Yesterday, the first daughter's duplex at the godly 740 Park Avenue closed for $32 million. And this morning, a deed filed in city records shows that the latter daughter and her husband closed on designer Vera Wang's old 14-room apartment at 778 Park. (Cutely, Ms. Wang left the building to move into her family's 740 Park apartment.)
The closing price was $33.6 million. There are no mortgage records filed for either deal, which suggests that Mr. Rennert not only spent $65,600,000 on his daughters' apartments last month, but he paid $65,600,000 in cash. Decadence is a lovely thing.