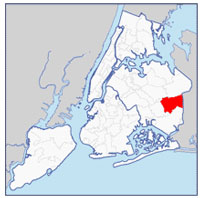 The race for the City Council seat in Queens that Leroy Comrie is vacating because of term limits in 2009 is turning contentious unusually early.
Running for the seat are Ruben Wills, executive chief of staff to Democratic state Senator Shirley Huntley, Brian Simon, chief of staff to Representative Greg Meeks, and Democratic operative Joan Flowers.
Huntley is a newly elected official in southeast Queens, where former Representative Floyd Flake helped elect Meeks and State Senator Malcolm Smith, among other of his allies.
When I asked Wills how he felt going up against the Meeks and that political machine, which will likely be supporting Simon, Wills said, "What Greg Meeks machine? Brian Simon is an executive assistant. He is not a chief of staff." Wills went on to say, "He's never met the responsibilities that I've met."
I emailed a spokeswoman for Meeks for comment and clarification about Simon's exact title.