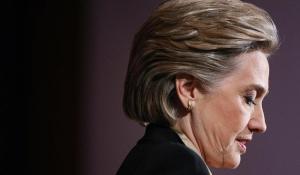 As devastating as it was to her party, it was—in purely political terms—good news for Hillary Clinton when John Kerry finished inches short of George W. Bush in the 2004 election.
Ms. Clinton had opted to sit out the '04 race, a decision that placed the fate of whatever White House ambition she harbored in Mr. Kerry's hands. A Kerry victory in '04 would have taken the Democratic nomination out of play until 2012, by which time other Democrats—like Vice President John Edwards, for instance—would likely have emerged and eclipsed her.
But Mr. Kerry's defeat ensured an open nomination for 2008, and an enticing one at that, with no incumbent President or Vice President running on the Republican side.
What nobody in the Clinton universe—or the rest of the universe—foresaw was the emergence of Barack Obama as an '08 candidate. And with Mr. Obama now on the verge of besting her for the Democratic nomination, Ms. Clinton may soon find herself in the same spot she was in four years ago: with her Presidential hopes hanging on the demise of the Democratic nominee.
If Obama wins the primary and loses the general, it could enable Ms. Clinton to build a powerful case for a turn of her own at the top of the ticket the next time around. This is rooted in the assumption that an Obama defeat would be the result of the kind of political attacks and G.O.P. campaign tactics that Ms. Clinton has been warning Democrats about. In the wake of an Obama loss, she could say to her fellow Democrats, in effect: You let your emotions cloud your judgment in 2008 and look what it got you; now let me show you how it's done.
But this assumes that Democrats don't end up blaming Ms. Clinton for the defeat. This creates a difficult balancing act for her right now: weighing the value of amplified attacks on Mr. Obama in pursuit of this year's nomination against the damage that the memory of those attacks could do to her '12 hopes.
And her dilemma will be even more wrenching if she wins enough upcoming primaries to last through the entire primary season. Presumably, she would still trail Mr. Obama in pledged delegates and—very likely—the cumulative popular vote. That would mean that forcing an ugly, explosive, and protracted fight over the Michigan and Florida delegations (which would favor her lopsidedly if they were seated at the convention) would represent her only chance of victory. Theoretically, she could pull it off. But if she tried and failed, the hard feelings among Democrats could be permanent.
The last thing that Ms. Clinton needs is to be remembered as another Eugene McCarthy, who failed in his bid for the 1968 Democratic nomination (although he did succeed in knocking President Lyndon Johnson out of the race) and then, sluggishly and grudgingly, offered the most lukewarm of endorsements to Hubert Humphrey. When Richard Nixon beat Humphrey by one point and a few dozen electoral votes, some irate Democrats branded McCarthy a saboteur. He tried to run again in 1972, but was trounced in the New Hampshire and Wisconsin primaries and promptly dropped out.
If Ms. Clinton resists the temptation to go with scorched-earth tactics and acts as a team player in the fall, she would be well-positioned for a comeback if Mr. Obama fails. Her campaign has made its share of tactical mistakes, but she has demonstrated substantial support amid record-shattering Democratic turnout. If she does fall short this year, it will be more the result of an unforeseen tidal wave of support for her opponent than because Ms. Clinton's own support collapsed. And, in the wake of another G.O.P. victory, her boasts of possessing a unique ability to defeat Republicans would take on new resonance.
Of course, if Mr. Obama gets nominated, it's quite likely that he'll win. And that would probably do in Ms. Clinton's White House hopes. With Mr. Obama presumably seeking re-election in '12, the nomination wouldn't open until 2016, when Ms. Clinton would be pushing 70. And by then, there's a good chance the Democratic Party will have gotten over its fascination with the Clintons—a fixation that has been nursed this decade by the party's defeats in 2000 and 2004.
If next January brings an Obama presidency, Ms. Clinton's best option in the political arena would probably rest in the Senate. Harry Reid turns 70 this year. Ms. Clinton could set her sights on succeeding him and becoming the first female Senate Majority Leader.
But if it's a Republican who takes the oath of office next year, it should mean, among other things, another shot at the White House for Hillary Clinton.