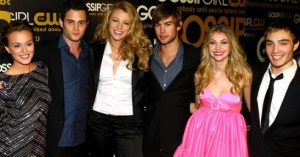 What are those Gossip Girl writers doing now that they can finally return to work? Gossiping, of course! Now that the Writers Guild strike is finally over (rejoice!), and scribes are returning to their crummy offices and barely-there story lines, they're feeling "an emotion akin to what they remembered experiencing on their first day of high school," according to the New York Times' Brooks Barnes. On the Warner Brothers lot, Stephanie Savage and Josh Schwartz, the co-creators of Gossip Girl, likened reopening their offices to "starting up a summer camp after the winter."
"Nobody had been cleaning and there was crime scene tape across the door," Ms. Savage said. Walking into her office, she said, "And somehow I remembered my office being much nicer."
Mr. Schwartz, who will resume work on his other series, NBC's "Chuck," in a few weeks, tried to cheer her up. "There are still tumbleweeds blowing through half the office. It's going to take a little time to feel normal again."
Upstairs, in the "Gossip Girl" writers' room, Ms. Savage started a discussion with five writers about possible story lines for the show, which focuses on a group of privileged high school students in New York. One writer mentioned college visits as a possibility, while another talked about a new love triangle. But the writers, all good friends, kept breaking off to catch up on their own gossip. "O.K., is anybody watching 'Celebrity Rehab' on VH1?" asked Mr. Schwartz.