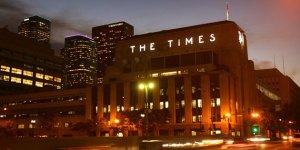 John Montorio, who has run the features department at the L.A. Times, is out. A managing editor on the masthead, Montorio just sent out a memo to his staff revealing the news, explaining that the paper's new editor Russ Stanton wanted to take features in a "different direction, with a new leader." Nikki Finke, having heard this was about to happen over the weekend, described it over the weekend as a firing; other editors told us the same. Here's Montorio's memo.
From: Montorio, John
Date: Feb 18, 2008 3:16 PM
Subject: Thanks
To: XXXXXXXXXXXXX
Friends,
These last seven years have been among the most rewarding of my life. Together, we have renewed and reshaped The Times' Features report into one worthy of a great newspaper and its readers. Today, page for page, our entertainment, cultural and life-style journalism stands up to that at any American newspaper. I'd hoped we'd be working together to extend that excellence into this new era. However, Russ has decided to take the Features department in a different direction, with a new leader, and I will officially leave The Times at the end of this month. I wish it were possible to personally thank each and every one of you individually, because our collective success truly is the sum of your individual contributions. You are as talented and devoted a staff as exists anywhere and our collaboration will remain one of my life's great pleasures. I don't know who your next editor will be. I do know that if they take half the pride in their association with you that I have, they will be fortunate beyond measure.
John