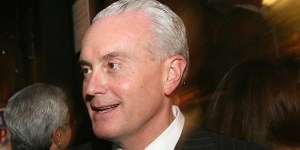 We just spoke to David Hiller, the publisher of the L.A. Times who chose Russ Stanton as the editor of the paper today.
"Even if there were divisions over who should be editor, Russ is well known and well liked and my view is that now that we have the candidtate that people will rally behind," he said.
"Well, there were a lot of views and different feelings about different candidates. In fact, you had one of the metaphors, or an analogy in your piece on this and I'm not saying this exactly—but this is experience versus the future. You made the reference of Obama versus Clinton. There were people who were more fully credentialed in a classic journalistic sense–yes, for sure, clearly. The question was what do you really need now from an editor to make the paper successful?
"What was exciting about Russ is he's a good journalist, understands journalism and also understands how we can change, and he can show he can make it happen. And let's pick the guy who can make change happen."
Stanton has been the paper's innovation editor since January 2007 and overseen the paper's Web site, latimes.com. In that time, the paper's traffic has increased 26 percent, and this February page views are up 133 percent versus last February.
"I think most clearly he's been doing it—he's been doing it for more than a year as our innovation editor and that has brought the significance we've had on the web. Russ in a year has really brought us forward fast. It wasn't about guessing if he could do it—he's shown that he can do it."